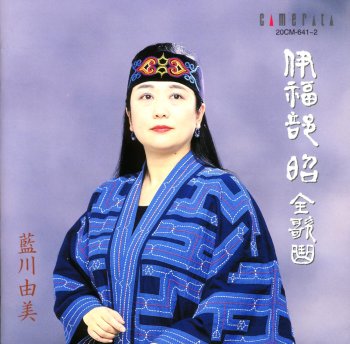 © 2002 Lawrence Tuczynski
Title
Vox Principal Works (reissue)
CD Label
Camerata
CD Number
20CM-641~2
Music Composed by:
Akira Ifukube
Vocals by:
Yumi Aikawa, soprano
Number of tracks
Disc 1 - 11
Disc 2 - 10
Running time
Disc 1 - 57:40
Disc 2 - 76:46
Number of discs
2
Year of release/manufacture
2001
REVIEW

March 15, 2002

This disc is a reissue of "Anthology of Vox Principal Works" also on the Camerata label, CD # 30CM-391-2 also found on this site. The main difference is that this reissue CD tacks two extra tracks onto the end ofdisc 2.

I've got to be honest up front. This CD set was not my cup of tea. While I can listen to and even enjoy almost any kind of music, there are two kinds of music I can't stand listening to no matter how many times I have tried. One is Rap and the other is Opera. This wasn't Rap. It probably sn't really opera either but the soprano vocal on every track by Yumi Aikawa sounded enough like Opera to turn me off. This is really a shame because quite a bit of the music by Akira Ifukube under the vocal sounded very good. I especially liked Disc 2 better than Disc 1 because the musical intros were much longer before the vocal started.

If you are a fan of Opera type music you would probably enjoy this 2 CD set. Anyone else probably wouldn't care much for it. This is extremely far removed from anything else I have heard from Mr. Ifukube.


	Disc 1

	Ancient Minstrelsies Of Gilyak Tribes
	(translated into Japanese by the composer)(1946)

1.	I
2.	II
3.	III
4.	IV

	Three Lullabies Among The Native Tribes On The Island Of Sakhalin
	(in the original tongues)(1949)

5.	I
6.	II
7.	III

	Eclogues After Epos Among Aino Races
	for solo voice and 4 kettle drums (in the original tongues)(1956)

8.	I
9.	II
10.	III

	The Lake Kimtaankamuito
	for soprano, viola and harp (poem by Genzo Sarashina)(1992)

11.

	
	Disc 2

1.	A Shanty Of The Shiretoko Peninsula
	for bass solo with piano (poem by Genzo Sarashina)(1960)

2.	Ode "The Sea Of Okhotsk"
	for soprano, fagotto, contrabass and piano (poem by Genzo Sarashina)(1988)

3.	The Lake Kimtaankamuito
	for soprano, viola and piano (poem by Genzo Sarashina)(1992)

4-8.	Five Poems After "Inaba Manyo"
	for soprano, alto-flute and 25 string koto
	(poem by Otomo no Yakamochi and Otomo no Sakanoue no Iratsume)(1994)

9.	Ao Saghi (Airone grigio)
	for soprano, Oboe, Piano and Contrabass (poem by Genzo Sarashina)

10.	La Fontaine Sacree
	for Soprano, Viola, Bassoon and Harp (poem by Akira Ifukube)