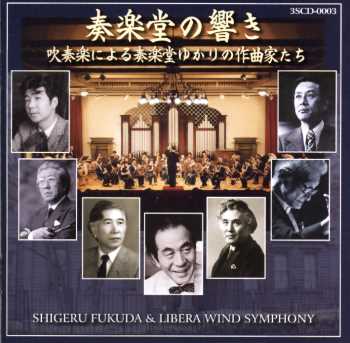 © 2008 Lawrence Tuczynski
Title
The Sound Of Sogakudo
CD Label
Three Shells
CD Number
3SCD-0003
Music Composed by:
Track 1 (Akio Yashiro)
Track 2 (Yasushi Akutagawa)
Track 3 (Yasushi Akutagawa/Shigeru Fukuda)
Track 4 (Toshiro Mayuzumi/Katsuyasu Tatsuno)
Track 5 (Ikuma Dan/Toshiyasu Tokimatsu)
Tracks 6-9 (Sadao Bekku)
Tracks 10-12 (Riichiro Manabe)
Track 13 (Akira Ifukube)
Track 14 (Yasushi Akutagawa/Shigeru Fukuda)
Music Performed by:
Libera Wind Symphony
Music Conducted by:
Shigeru Fukuda
Number of tracks
14
Running time
72:30
Number of discs
1
Year of release/manufacture
May 7, 2006
REVIEW

August 10, 2008

It's hard to find much information about this particular CD. It belongs here because of an Akira Ifukube track, Sadao Bekku's theme from "Matango" and several tracks by Riichiro Manabe who did some Godzilla scores. The music is about what you'd expect from a symphony orchestra and sounds lush and full. All the members of the orchestra are listed by instrument in the back of the booklet. The music on the CD was easy to listen to and if you close your eyes can picture yourself in a great hall with this large orchestra on stage. The styles and tempos of the various tracks are a good mixture and never bore the listener. (Sogakudo is a famous concert hall in Japan)
The Sound Of Sogakudo
(Sogakudo is a famous concert hall in Japan)
Fanfare
Tokyo Universiade March
Allegro Molto from Prima Symphony
Symphonic Poem from "TATEYAMA" - Theme Selection
"SONATA" for Wind-Ensemble - 1st Movement

"Eizo no Kiofu - Memories of Cinema"

I. "Matango" theme
II. Jyukai black
III. Harukanaru man
IV. The key to the key

Three Marches (premiere)

I. March X "unknown"
II. March Y "dead"
III. March Z "revitalization"

"Rondo In Burlesque" for Symphonic Band

Theme from "Akoroshi"