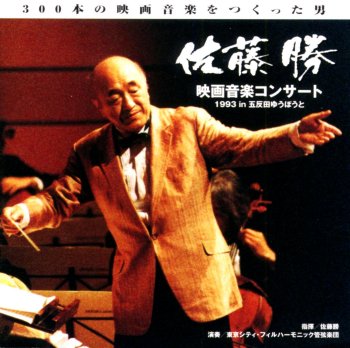 © 2001, 2014 Lawrence Tuczynski
| | |
| --- | --- |
| Title | Masaru Sato Film Music Concert |
| CD Label | Toei Music/Absord Music Japan Inc. |
| CD Number | ABCS-20 |
| Music by: | Masaru Sato |
| Number of tracks | 14 |
| Running time | 77:40 |
| Number of discs | 1 |
| Year of release/manufacture | 2000 |
REVIEW

December 08, 2001

Here we have something a bit rare, a live concert by Masau Sato doing music from some of the films he scored. None of the tracks are from any of his Godzilla scores. There are some passages from various Akira Kurosawa films. There is occasional applause by the audience but it is kept to a minimum and does not occur during the music. This was a very good listening experience and should be sought out by fans of Mr. Sato's music.
REVIEW

Track translations courtesy of John Cassidy (Daijirou Ryuusei)

English Title: Masaru Sato Film Music Concert



 1.) From SAPPORO OLYMPICS (1972)
	(SAPPORO ORINPIKKU)
	- "Great Rotation"
	- "Ochowa Of Spain"
	- "Goodbye Sapporo"

 2.) From WAR AND MAN (1974)
	(NINGEN TO SENSOU)
	- "Main Title"
	- "Farewell"

 3.) From THE CHEERING SONG OF THE WAR DEAD (1979)
	(EIREI TACHI NO OUENKA)
	- "Bolero Of The Distant Sky"

 4.) From THE STUTTERING CRY (1975)
	(DOKKAN)
	- "The Rioting World"

 5.) From THE SUNSHINE TOWER (1983)
	(YOUKIROU)
	- "Main Title"

 6.) From THE WIVES OF THE HIGH ROAD (1986)
	(KYOKUDOU NO TSUMA TACHI)
	- "Main Title"

 7.) From THE TIME OF MY YOUTH (1975)
	(WAGA SEISHUN NO TOKI)
	- "Main Title"

 8.) From LIGHT MAKEUP (1985)
	(USUGESHOU)
	-"Main Title"

 9.) From AUGUST INSIDE THE EMPEROR (1978)
	(KOUTEI NO INAI HACHIGATSU)
	- "August Inside The Emperor"

10.) From RASHOMON (1950)
	(RASHOUMON)
	- "Rashoumon"

12.) From THE BODYGUARD (YOJIMBO) (1961)
	(YOUJINBOU)
	- "The Bodyguard"

12.) OVERTURE OF THE NORTH
	(KITA NO JOUKYOKU)
	Hokkaido Rumoi City Request Music

13.) THE MOON OF THE CASTLE RUINS
	(ARAKI NO TSUKI)

14.) From THE YOUNG PEOPLE (1969)
	(WAKAMONO TACHI)
	-"The Young People"