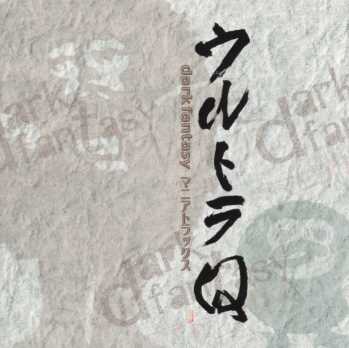 © 2007 Lawrence Tuczynski
Title:
Ultra Q - Dark Fantasy - Maniatracks
Japanese Title:
Urutora Kyuu Daaku Fantajii
CD Label:
AVEX Inc.
CD Number:
AVCA-14939
Music by:
Tada Akifumi
Miyauchi Kunio ... theme music
Number of tracks:
55
Running time:
72:33
Number of discs:
1
Year of release/manufacture:
May 26, 2004
REVIEW

October 12, 2007

Ultra Q: Dark Fantasy is a 2004 TV production in the Ultra Series that was broadcast in Japan in 2004. It is a sequel to Ultra Q, the first of the Ultra Series. I have never seen it. The music on the CD is varied with some tracks that will sound very familiar to fans of the original 1965 "Ultra Q" series. While nothing on the CD particularly jumped out at me, except maybe the vocal track 53, it was a pleasant enough CD to listen to and makes for a good stand alone listening experience.
Ultra Q - Dark Fantasy - Maniatracks
Tracks titles from Google translation of web site at: http://www.neowing.co.jp/detailview.html?KEY=AVCA-14939.
"Ultra Q" End Title (Q ultra-dark fantasy End Title)
"Ultra Q," Main Theme (Ultra Q - Dark Fantasy main theme)
"Ultra Q," Main Theme (Ultra Q - Dark Fantasy main theme) arranged version
Imbalanced world
The entrance to the maze
Bizarre country NIPPON
Dark fantasy
A looming fear
Fantasy
Dark
Mysterious phenomena
The presence of mystery
Sinister black
Philosophical fear
Reminiscences and happiness
Nostalgia and loss
Classic love
Exalting feelings
Swinging by the warmth
Oasis
The subtle tension
Exciting feelings
Orgy
Children's athletic meet
Atmosphere
A quiet happiness
The morning scene
Fantasy to ease
Fantasy-ups
Fantasy to dream
Fantasy to phantom
Passions
Solemn
Nature
Existence
Dry grief
Incongruously whale on terror
Glorification
Evasion
Beat operations
Max speed operation
Factory
Lilting action
Unfavorable chessboard
Panic
Chaos
Encounter
Space
Hope of convergence
Despairing convergence
Mysterious afterglow
Love's accomplishment
Q Gala Ondo
"Ultra Q" End Title
"Ultra Q," the main theme