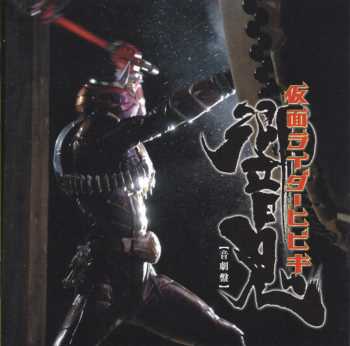 © 2007 Lawrence Tuczynski
| | |
| --- | --- |
| Title: | Kamen Rider Hibiki - Original Soundtrack |
| CD Label: | Avex Entertainment Inc. |
| CD Number: | AVCA-22307 |
| Music by: | TOSHIHIKO SAHASHI |
| Number of tracks: | 55 |
| Running time: | 63:42 |
| Number of discs: | 1 |
| Year of release/manufacture: | June 15, 2005 |
REVIEW

September 24, 2007

I enjoyed this CD very much. The tracks are a good mix of marches and action music along with some nice, quieter, laid back tracks featuring what sounds like a xylophone. I haven't seen the movie this soundtrack goes to but the music works well as a stand alone listening experience and based on what I'm hearing probably works quite well with the visuals.
Kamen Rider Hibiki - Original Soundtrack
English translated titles courtesy of Jolyon Yates.
Announcement
Radiance ~ from Volume 1 ~
Asumu 1
Asumu 2
Radiance ~ Audio Drama ~
Old (Inishie) Forest
Fascinating Figure
Tachibana
Pursuit
Loneliness
Ride When The Day Is Clear
Secret Maneuver
Whirlwind
To Oni!
Move Lively
Flames (Homura)
Radiance ~ Yoshino ~
Death Fight
Hibiki-san
In Fog
Suffering
Invitation to Death (Izanai)
Believe in Yourself
Radiance ~ Unknown Fire ~
Search
Sign
Magical Transformation
Pulsation
Raging Fire
Aspiration
Radiance ~ Violent Thunder
Every Day
Boldness
Thinking
Radiance ~ Purple Flames
Nightmare
Fierce Soldiers
Fast Gallop
Radiance ~ Fierce Soldier
Determination
Fierce Soldier's Way
Radiance ~ Squall
Emaciation
Maneuvers
Forging
Kodo 1
Kodo 2
Kodo 3
Radiance ~ Tornado
Boy! (TV Size)

BONUS TRACKS

Trailer
Good Morning! ~ from Volume 1
Crimson Hawk (Akanetaka)
Green Great Ape (Ryokuozaru)
Lapis Lazuli Wolf (Ruriokami)