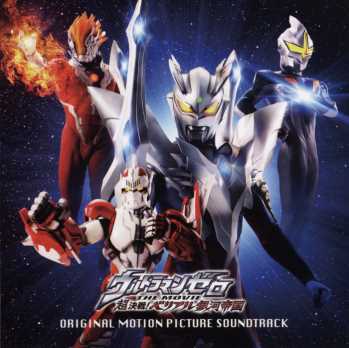 © 2011 Lawrence Tuczynski
Title
Ultraman Zero The Movie: Super Deciding Fight!
The Belial Galactic Empire Original Soundtrack
Japanese Title
Cho Kessen! Beriaru Ginga Teikoku
CD Label
Avex Entertainment Inc.
CD Number
AVCD-38207
Music by:
Kenji Kawai
Number of tracks
33
Running time
74:05
Number of discs
1
Year of release/manufacture
December 22, 2010
REVIEW

January 16, 2011

I have listened to this disc about three times now and it grows on me more each time I listen. The CD starts out with a vocal, J-Pop sounding number. The best I can figure out is this vocal is done by a Japanese artist called Girl Next Door. Looking at the track listings it appears she also did some of the instrumental work on a few other tracks.

I know nothing about the Ultraman Zero movie that this soundtrack comes from but the music is captivating enough that I'd be interested in seeing it. The tracks are a mix of fast, action paced instrumentals along with slower tracks.
Ultraman Zero The Movie
English track title translations courtesy Jolyon Yates
Drop of Fate ~ Destiny's Star ~ Ultraman Zero Remix
Galactic Empire Belial Trembles Theme
Mirror Knight Appears
Title Backing
Forewarning of Crisis
Darklops vs Zero
Zero's Resolve
The Legionoids Attack [Planet] Anu
Run in Trouble
Zero Descends
'Come On Ultraman Zero!' movie version
Zero Enters the Body of Run
Nao Tossed About by Fate
Emerana Alone
The Vow of the Three
Soldier Glenfire Appears! featuring Inoue Yuji (Girl Next Door)
We're the Three Pirate Brothers
Glenfire is Presented to The Darkgone Imperial Army
The Hill Where You Can See the Stars (Drop of Fate ~ Destiny's Star)
On The Jumbird Star
Mirror Knight of Mirror Planet featuring Chisa (Girl Next Door)
Zero Purifies Mirror Knight
Baraji Shrine
Kaiser Belial Theme
Prayer of Princess Emerana
Ultraman Zero Theme (E Guitar version) featuring Inoue Yuji (Girl Next Door)
Jumfight! featuring Inoue Yuji (Girl Next Door)
Arch Belial Theme
Ultimate Zero
The Four Heroes Guided to Victory
Princess Emerana Revived
Thank You, Ultraman Zero!
Ultimate Zero Force Vow ~ Come On Ultraman Zero!