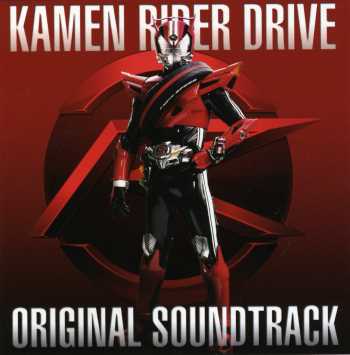 © 2015 Lawrence Tuczynski
All info and cover scan courtesy of John Emmons
| | |
| --- | --- |
| Title: | Kamen Rider Drive Original Soundtrack |
| CD Label: | Avex Entertainment Inc. |
| CD Number: | AVCD-93123 |
| Music by: | Kotaro Nakagawa and Shuhei Naruse |
| Number of tracks: | 53 |
| Running time: | 77:50 |
| Number of discs: | 1 |
| Year of release/manufacture: | April 15, 2015 |
REVIEW

October 14, 2015

Review by John M Emmons

Kamen Rider Drive originally aired from October 5, 2015 to September 27, 2015, the latest installment in the Kamen Rider franchise. As the name implies, the theme for the armors and gimmicks of this hero is cars. Like cars, the music for this series is fast and loud.

The album opens with several pulse-pounding pieces. The electric guitar comes to the forefront on these songs and is used prominently throughout the album. In contrast to the rock elements are the more brass intensive tracks that involve Detective Shinnosuke Tomari and the Special Investigations Division. These songs have a vibe that reminds me of '70s cop shows.

This is a very comprehensive collection of music from the series. It is not something you'd likely listen to on a quiet Sunday afternoon. This music is best appreciated while driving, jogging, or any similar activity. It will really "start your engine!"
Kamen Rider Drive Original Soundtrack (AVCD-93123)
All info and cover scan courtesy of John Emmons
Start Your Engine
Start Driving
Tridoron
Tire Koukan (Tire Exchange)
Drive Hard Battle
Three Commanders
Heart
Brain
Chase
Mansion of Mystery
Steinbelt
The Solution to the Mystery
Evidence
Moving at High Speed
Gigantification
The Roimyudo's Appearance
The Advancing Roimyudo
Mashin Chaser
Deadly Chase
Pit
Transform Tridoron
Action Tridoron
Absent-Minded Shinnosuke
Happy Shift Car
Touring
The Great Efforts of the Shift Car
Global Freeze
Roimyudo
Roimyudo's Scheme
Medic
Attack Machine
Tridoron Deployed
Special Investigations Division
Foolish Section Chief
Clamor
Showtime
Lazy
So Because of That
And the Following Are?
Detective Spirit
It's Justice
At That Time
When Not Together
Major Event
The Swirling Case
Mystery to be Solved
Time of Doubt
The Progress of the Case
The Hour of Peace
The Cry From the Heart
The Moment of Truth
The Dream of Each Person
Surprise-Drive TV Edit.
Performed by Mitsuru Matsuoka EARNEST DRIVE