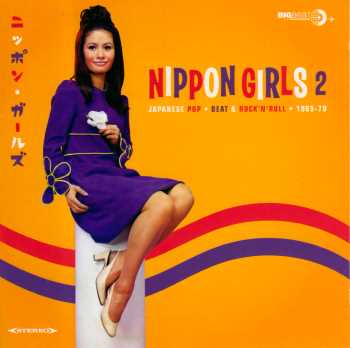 © 2015 Lawrence Tuczynski
| | |
| --- | --- |
| Title | Nippon Girls 2: Japanese Pop, Beat & Rock'N'Roll 1965-1970 |
| CD Label | Big Beat International |
| CD Number | CDWIKD 321 |
| Music by: | Various Artists |
| Number of tracks | 24 |
| Running time | 66:54 |
| Number of discs | 1 |
| Year of release/manufacture | October 24,2014 |
REVIEW

January 09, 2015

This is the second volume in this series of Japanese 60's girl pop. Out of the 24 tracks there is one track by The Peanuts. Unfortunately it's not a rare or previously unreleased track but one that has appeared on many past Peanuts CD's. Like the other CD (also on this site Nippon Girls) it contains some nice pop tunes from the 60's with similar styles to what was heard here in the U.S. in the early 60's by female artists. Some of the tracks are very catchy and will stick in your head.
Nippon Girls 2: Japanese Pop, Beat & Rock'N'Roll 1965-1970
Kayoko Ishuu - "Bazazz No 1"
Linda Yamamoto - "Furi Furi 5"
Reiko Mari - "Saike Na Machi"
Mari Henmi - "Daniel Mon Amour"
Hibari Misora - "Makkana Taiyou" (with Jackey Yoshikawa & Blue Comets)
Katsuko Kanai - "Mini Mini Girl"
Akiko Wada - "Boy & Girl"
Bay Beats - "Kizudarake No Taiyou"
Akiko Nakamura - "Taiyou Ni Koi Shite"
Anne Mari - "Wild Party" (with Kazuya Nishikawa)
Emy Jackson & Blue Comets - "Namida No Go Go"
Ayumi Ishida - "Yuwakuteki Na Gogo"
Jun Mayuzumi - "Ai Ga Hoshii No"
Chiyo Ikumura - "Koi Gurui"
Kiyoko Ito - "Mishiranu Seka"
Akiko Wada - "Warrate Yurushite"
Kemeko Matsudaira - "Watashi Ga Kemeko Yo"
Pinky & Killers - "Ore To Kanojo"
Akiko Nakamura - "Namida No Mori No Monogatari"
The Peanuts - "Tokyo No Hito"
Kazumi Yasui - "Warui Kuse"
Chiyo Okumura - "Koi No Dorei"
Emy Jackson & The Smashmen - "Namida No Heart"
Yujo Nagisa - "Kyoto No Koi"