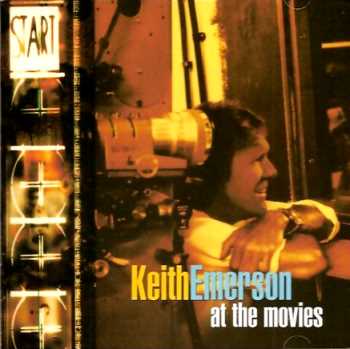 © 2005 Lawrence Tuczynski
I do not own a copy of this CD, all info on this page courtesy of Robert Storch
Title:
Keith Emerson "at the movies"
CD Label:
Sanctuary Records Group LTD., Castle Music U.K.
CD Number:
CMETD-1214
Music by:
Keith Emerson
Number of tracks:
Disc 1: 19
Disc 2: 29
Disc 3: 20
Running time:
Disc 1: 75:40
Disc 2: 79:20
Disc 3: 55:45
Number of discs:
3
Year of release/manufacture:
November 22, 2005
REVIEW

December 28, 2005 courtesy of Robert Storch

I discovered this Keith Emerson U.K. import while searching for new CDs on Arksquare's website and decided to buy it. My main reason was because his contribution to the film "GODZILLA FINAL WARS" appears on disc three. This boxed set consists of an outer box with three individual slimline CD jewel cases and one booklet inside. The first disc is Vol.1 (U.S. Movies), the second disc is Vol.2 (Italian Movies) and the third disc is Vol.3 (Japanese Movies). Except for his GFW score, I am not too familiar with his other soundtracks in general. I can tell you that disc one has a very early 80's sound (especially for "NIGHTHAWKS") and the track 'Playing For Keeps' from "BEST REVENGE" features the soaring vocals of Boston's Brad Delp. Keith Emerson wrote the bulk of the GFW score, but there were a couple of other Japanese composers who contributed music to the film and the soundtrack. This CD set only features the tracks that Keith Emerson wrote for the film - it does not contain the complete score for GFW. As of now, I have seen this set being sold online at Amazon, Best Buy and Arksquare. My copy only cost $24.90 plus shipping and the other places had it for less than $29.00 also - certainly a very low price for a 3 disc import! Below is an excerpt from the booklet and Keith Emerson....

"It was an honour and I was delighted to except the commission. I was originally asked to write the theme tune but when Toho Films heard that composition they asked me to write the whole score. I was commited to a tour of the U.S. and didn't know if I'd have the time. I ended up doing it but they kept on moving the goalposts and changing the storyline. In the end what I had to do was send them everything and say 'Good luck'! I was at the Hollywood premiere last year. I'd expected to hear a little more of my music in the film...But, if only I'd had more time..."
Keith Emerson - "at the movies"
Disc 1 - Vol. 1 (U.S. Movies)
Nighthawks (Main Title Theme)
Mean Stalkin'
The Bust
Nighthawking (Emerson/Mueller)
The Chase
I'm A Man (Winwood/Miller)
The Chopper
The Chopper
Tramway
I'm Comin' In
Face To Face
Flight Of the Hawk
Best Revenge - Orchestral Suite
Playing For Keeps (lead vocal by Brad Delp)
The Dreamer (Love Theme)
Wha'dya Mean
Outgoing Tide
For Those Who Win (Emerson/Chatton)
The Runner
Disc 2 - Vol. 2 (Italian Movies)
Inferno (Main Title)
Rose's Descent Into The Cellar
Taxi Ride (Rome)
The Library
Sarah In the Library Vaults
Bookbinder's Delight
Rose Leaves The Apartment
Rose Gets It
Elisa's Story
A Cat Attic Attack
Kazanian's Tarantella
Mark's Discovery
Mater Tenebrarum
Inferno Finale
Cigarettes, Ices, etc
Inferno Extras
La Chiesa (The Church - Main Theme)
The Possession
Prelude 24 (J.S. Bach, arr. Emerson)
La Chiesa Revisited
Murderock
Not So Innocent (Emerson/Chanter)
Prelude To Candice
Don't Go In The Shower
Coffee Time
Candice
New York Dash
Tonight Is Not Your Night
The Spillone
Disc 3 - Vol. 3 (Japanese Movies)
Harmagedon (Theme Of The Floi)
Jo And Michiko
Sonny's Skate State
Zamedy Stomp
Challenge Of the Psionic Fighter
Children Of the Light
Godzilla Vs. Gotengo
Godzilla Final Wars Titles
EDF Headquarters Fight
EDF Museum
Infant Island
Rodan Attacks NYC
Earth Defense Forces Theme
Motorcycle Battle
Godzilla Awakens
Love Theme
Monster Zero Theme
Cruising The Cirro Stratus
Godzilla Theme I. Ifukube
Godzilla Final Wars End Titles