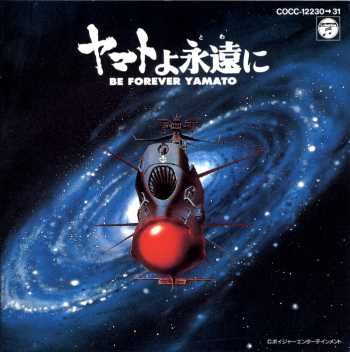 © 2007 Lawrence Tuczynski
Title
Be Forever Yamato
CD Label
Nippon Columbia Co., Ltd.
CD Number
COCC-12230~31
Music by:
Hiroshi Miyagawa
performed by Symphonic Orchestra Yamato
Number of tracks
Disc 1 - 12
Disc 2 - 9
Running time
Disc 1 - 40:46
Disc 2 - 42:50
Number of discs
2
Year of release/manufacture
January 01, 1995
REVIEW

January 30, 2007

The music on this CD is quite different from most of the Yamato CD's I've heard. Disc 1 starts off with an ethereal female voice track. Track 2 is a recurring Yamato theme from other discs but track 3 really grabbed me. It's hard to describe it but it was dirge like with a feeling of eeriness, haunting and fantasy. I really liked it a lot as well as track 1. Track 8 is very suspenseful and sounds like something of a cross between music you would hear from the old TV show "One Step Beyond" and the movie "The Black Hole". The rest of the CD is also very pleasant to listen to with a variety of styles and instruments. One of my favorites from the Yamato CD's.

Disc 2 starts off with a nice, lilting theme that has been heard before but also adds a little chorus voices to part of it and morphs into a more upbeat, happy sounding tune before going back to the lilting theme. It's the longest track on the CD and changes tempo several times. It sounds more like a suite than one song. Track 6 is another hauntingly eerie track that sounds cool. The rest of the tracks on this disc are also good with many having an outer space feel to them.

Overall a very good 2 disc set and one I can recommend.
Be Forever Yamato
Disc 1

New Space
Yamato Travels through Unknown Space
The Double Nucleus Bomb
Two Loving One-another
Wounded Soldier
Earth's Occupation
Farewell
Black Nebula Empire
Sasha (Mio)
Encounter
Happiness
Goodbye
Left Behind
The Black Galaxy
Second Lieutenant Kiiman (Arufon)
Disc 2

Be Forever Yamato -- Dedicated to Sasha
Battle For Earth's Freedom
Sad Love
New Space II (Double Galaxy)
Two Trusting in One-another
Collapse of the Mother Planet, Dezarium
Mio's March
Decisive Battle
A New Galaxy Born