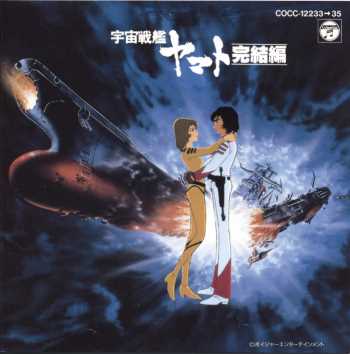 © 2007 Lawrence Tuczynski
Title
FINAL YAMATO - Complete Symphonic Suites
CD Label
Nippon Columbia Co., Ltd.
CD Number
COCC-12233~35
Music by:
Hiroshi Miyagawa
Performed by: Symphonic Orchestra Yamato
Number of tracks
Disc 1 - 10
Disc 2 - 13
Disc 3 - 11
Running time
Disc 1 - 44:48
Disc 2 - 51:18
Disc 3 - 40:36
Number of discs
3
Year of release/manufacture
January 01, 1995
REVIEW

February 02, 2007

For a three disc set the running times on these CD's come up a bit short. This easily could have been spread over two discs rather than three. The three CDs here were at one time released as separate albums, and therefore contain some duplicate titles and scores.

Disc 1 is a nice sounding disc with a variety of tempos but many seem to have a 1970's disco feel to them.That's not a bad thing except for making the disc sound a bit dated. The non disco flavored symphonic tracks are really nice and shine, especially on Disc 2 where some of the same themes from Disc 1 are repeated but done slightly different. The fast, action tracks on Disc 2 were especially catchy. I didn't detect any disco flavored tunes on Disc 2 but there were a couple of tracks that reminded me of circus music. Some of the tracks from disc 2 are reprised on disc 3. Disc 3 is the shortest as far as running time and probably has the most tracks that are mostly mellow. There are a couple of fast tracks but the majority are slow, meandering themes. They do sound nice and put you in a relaxed mood.

Of the three discs in this set I probably enjoyed Disc 2 the most because of the variety of tempos, the action music and not sounding dated like the 1st disc. Overall a nice set and worth having if you are a Yamato fan.
FINAL YAMATO - Complete Symphonic Suites
Disc 1

Aquarius - Planet Of Water
Aquarius - 4.5 Billion Years
Yamato's Pathetic Sortie
Lugal Jr.'s War
Yuki
History Of The Uruku
The Battle Of Pluto
Planet Deingil
Fight! Cosmo Tiger
Aquarius: Planet Of Mystery
Disc 2

Two Galaxies
Planet Deingil Drowns
Mobil Fortress
Hyper-Radiation Missile
Great Devil
Final Yamato
Sorrow
Gigantic Battleship "Garnvoist"
Yamato and Me (Kodai)
Unfortunate Deingil Boy
Two in the Cosmo Zero
Aquarius Requiem
Symphony Of Aquarius
Disc 3

The Neutrino Beam Miracle
Final Yamato Battle
Yamato and Me (Kodai)
Deingil Boy's Theme
Yamato Escapes
Okita and Kodai
Drowning Of Planet Deingil
Leader Lugal's Battle
Yuki's Theme
Shima Daisuke's Theme
Aquarius Requiem II