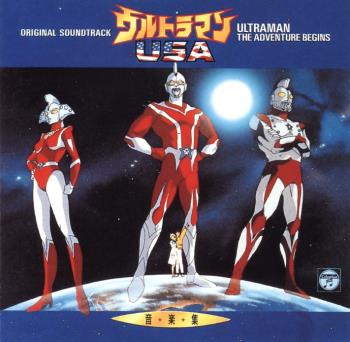 © 2005, 2014 Lawrence Tuczynski
| | |
| --- | --- |
| Title | Animated series ULTRAMAN USA music collection ULTRAMAN: THE ADVENTURE BEGINS |
| CD Label | Columbia Music Entertainment, Inc. Japan |
| CD Number | COCC-72075 |
| Music by: | Shinsuke Kazado |
| Number of tracks | 9 |
| Running time | 48:13 |
| Number of discs | 1 |
| Year of release/manufacture | September 22, 2004 |
REVIEW

May 29, 2005
Notes courtesy of David Hirsch

[Limited Release] (limited to 5,000 copies)

One of my most often played CDs is the score for "Ultraman Great: Towards the Future," the Australian filmed series composed by Shinsuke Kazato. For the second animated Ultraman adventure (made by Hanna-Barbera, creators of "The Flintstones" and "The Jetsons") produced a year earlier than the live series, Kazato-san works his musical magic once again. The genesis of many of his "Ultraman Great" themes can be found here, including the main title, which was actually composed first for this film. Shinichi Ishihara and Yuu Aku provide the theme song.
Animated series ULTRAMAN USA music collection ULTRAMAN: THE ADVENTURE BEGINS
Translations courtesy of Jolyon Yates
Race Against Time
Prologue
Omen
Ultra Force ~ Elected Three (members)
Grinshocks & Galbarade ~ Two Giant Monsters Appear
Zoon ~ Little Jester Monster Zoon
King Maera ~ Super Transformer Monster King Maera
Epilogue
Sky High Hero
Song: Shinichi Ishihara (1,9)
Choir: Chorogi '73 (1,9)
Music: Shinsuke Kazado, Shunichi Tokura (1,9)
Performed by: the Columbia Orchestra
Scat: Kazuko Kawashima