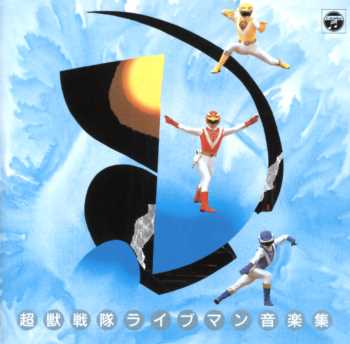 © 2006 Lawrence Tuczynski
Title
Choju Sentai Liveman Music Collection
(SUPERBEAST SENTAI LIVEMAN MUSIC COLLECTION)
CD Label
Columbia Music Entertainment, Inc.
CD Number
COCC-72116
Music by:
Tatsumi Yano (Composer)
Daisuke Shima (Artist)
Akira Ohtsu (Lyricist)
Number of tracks
12
Running time
43:59
Number of discs
1
Year of release/manufacture
March 23, 2005
REVIEW

October 19, 2006

This CD is #116 in the Animex 1200 set of limited releases (limited to 5,000 copies). In general, most of the ANIMEX CDs are budget reissues of older Columbia LPs. This one is reasonable priced at http://www.cdjapan.co.jp/.

The CD starts off with a fast paced male vocal track. After that we get some nice marches and action pieces. They are fairly fast paced and will grab your attention. Very well done. There are also a few slower paced orchestral sounding tracks mixed in. Tracks 9 is a guitar laden rocking instrumental. The last track is a rocking male vocal track with an 80's feel to it. Overall a great listening experience.
Choju Sentai Liveman Music Collection
(SUPERBEAST SENTAI LIVEMAN MUSIC COLLECTION)
English track titles courtesy of Jolyon Yates
Superbeast Sentai Liveman
In the Name of Justice
Tremulous Armed Brain Army
Evil God's Ambition
Attack, Superbeast Mecha!
Life's Verification
Ambition comes to Fruition
Yue Wakasa [name? Wakasa = young]
We Are Liveman
Brain Beast Terror
Turn Towards the Shining Tomorrow
Live to Tomorrow!
Music: Tatsumi Yano
Song: Daisuke Shima
Performed by Columbia Orchestra