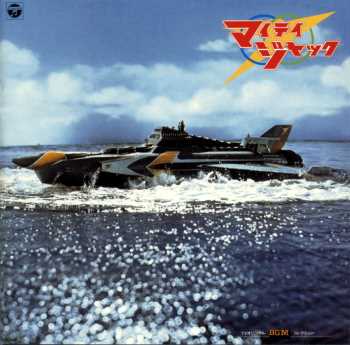 © 2007 Lawrence Tuczynski
Title:
Mighty Jack TV Original BGM Collection
CD Label:
Columbia Music Entertainment, Inc.
CD Number:
COCC-72239
Music by:
Isao Tomita
Kunio Miyauchi
Number of tracks:
11
Running time:
54:10
Number of discs:
1
Year of release/manufacture:
March 21, 2007
REVIEW

September 27, 2007

The 11 tracks on this CD are suite like in that they all contain anywhere from 2 to 6 subsections.The music itself is a good mix of styles and tempos with some action tracks, some laid back tracks and a few sounding like jazz. The CD is a nice stand alone listening experience. I have never seen any of the Mighty Jack shows so can't comment on how well they do with the visuals but based on just the music would assume they go together well.Part of track 3 and part of some other tracks reminds me of the big Cecil B. DeMille movies grand orchestration and comes off similar to music heard in "The Ten Commandments" or "Gone With The WInd".

This CD is also number 159 from the ANIMEX 1200 series.
Mighty Jack TV Original BGM Collection
English translated titles coming soon. The below taken from a Google translation of the CD Japan web page for this CD.
Song of [maiteijiyatsuku]:
Opening title (M-45) ~
theme song (M-T-2)/fool sands choir
The organization of Q-?:
Crisis of earth (M-1)
the secret maneuver of Q (M-62)
the pursuit of MJ (M-2)
insecurity (M-51)/TV [santora]
Messiah created:
The super science of Q (M-6)
the super weapon of badness (M-7)
the attack of Q (M-68)
MJ it sorties (the karaoke of theme the 2)
MJ number takeoff (M-T-5)
eye catch (M-40)/TV [santora]
The crisis of MJ:
Enormous mechanic appearance (M-10)
absolute decease (M-49)
all-out attack (M-69)
sea based discovery (M-80 T-3) underwater cruise
(M-12)/TV [santora]
Power of hero:
New weapon (M-57)
deep-sea game (M-48)
chase (M-70)
the victory of MJ (M-T-6)/TV [santora]
After the fight:
The separation (M-101)
you relax, (M-47)
next notice (M-T-11)/TV [santora]
MJ which becomes new:
March of opening MJ (A-1B)
new enemy (H-1)
clandestine work (C-2)
incident occurrence (bridge - 1)
vanguard game (A-3)/TV [santora]
The revival of Q:
Organization of badness again (C-5)
enemy country search (D-2)
pursuit (D-3)
gun battle (B-2)
eye catch A (the shock - 9B)/TV [santora]
MJ urgent move:
Eye catch B (shock - 9)
move preparation (D-1)
being spirited takeoff (A-2)
start of battle (B-1)
doubt (bridge - 5)
crisis (bridge - 6)
(end - 4)/TV [santora]
Last decisive battle:
Gallant figure of MJ number (B-3)
fierce battle (B-4 T-2)
irritation (C-1)
disappearance (D-4)
sky of crimson lotus (B-5)/TV [santora]
Immortal soldier:
Fight ending, (the extra - 1)
you grieve, (F-3)
to the desired sky (the end - 8)/TV [santora]