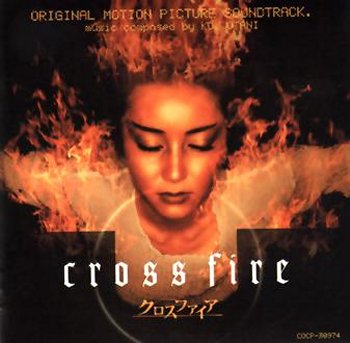 © 2001 Lawrence Tuczynski
Title
CROSS FIRE
Japanese Title
Kurosufai'
Movie also known as:
Pyrokinesis
CD Label
Nippon Columbia Co., Ltd.
CD Number
COCP-30974
Music by:
Kow Otani
(Also spelled Ko and Kou)
Number of tracks
28
Running time
50:00
Number of discs
1
Year of release/manufacture
2000
Year Movie Released in Japan
2000
Year Movie Released in U.S.
N/A
REVIEW

July 28, 2001

I recently got to see this movie and found it enjoyable. It reminded me of a Japanese interpretation of Stephen King's "Firestarter" if the girl was a young woman instead of a child.

The soundtrack CD also impressed me. It was a good mix of slow, eerie, piano music, faster paced action tracks and synthesizer tracks with a few slow love type themes. Ko Otani has also done the scores for 1995's "Gamera: Guardian Of The Universe" and this years upcoming new Godzilla movie "GMK". In general this CD was a very pleasant listen with no bad tracks but not many outstanding ones either. If you enjoyed his "Gamera" soundtrack you'll probably like this one too.
English Title: Cross Fire
Japanese Title: Kurosufai'
Track translations courtesy of Jolyon Yates
Title
Bad Feeling
Terror
Tragedy Begins
Age of Insanity
Criminal Judgement
Tragic Determination
Forbidden Power
Desperate Desire
Sorrowful Power
Chosen Power People
Righteous Blow
Angry Action
To the Plaza
Profound Sorrow
Inexplicable Event
Girl Aoki Junko
Fateful Meeting
In the Snow
Each Desire
Sorrowful Confession
Enormously Dangerous Trap
Cross Fire
Woman-god of the End of the Century
Judgement of Evil Crime
Goodbye
Eternal Flame
Cross Fire : Epilogue
Ko Otani
Attended Tokyo University Faculty of the Arts. Worked on records and concerts for the Southern All Stars. Arranger for Michael Calbero (Santana) and Tony Sanders (Miles Davis Band). Worked in music festivals, with classical orchestras, and in rock, jazz, hip-hop etcettera. Producer for pop acts like Dreams Come True. Composed and produced for anime, TV dramas, commercials and games. Movies include GAMERA (1, 2 & 3) and GAKKO NO KAIDAN 3.