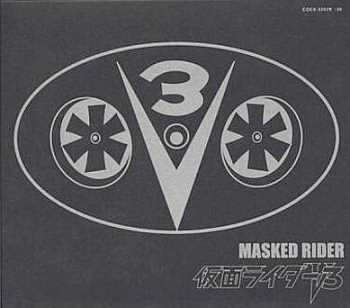 © 2007 Lawrence Tuczynski
| | |
| --- | --- |
| Title: | Kamen Rider (Masked Rider) V3 |
| CD Label: | Nippon Columbia Co., Ltd. |
| CD Number: | COCX-32029 |
| Music by: | Various |
| Number of tracks: | 56 total |
| Running time: | Unknown |
| Number of discs: | 2 |
| Year of release/manufacture: | January 18, 2003 |
REVIEW

October 16, 2007

The following review is from http://www.cdjapan.co.jp/detailview.htmlKEY=COCX-32029. I do not own this CD nor have I ever had the chance to hear it. Cover scan was sent to me and all other info taken from the internet.

Reviewer: Stuart (UNITED STATES)
A great 2 CD set for those obsessed with Kamen Rider V3. It seems to contain every piece of music from the series with one exception. There are 7 vocal versions (tv-sized and full length) and 2 instrumental versions of the opening theme. 6 of those are recorded by Hiroshi Miyauchi, the last 1 by Ichiro Mizuki. Some tracks have sound effects and narration. There are 10 other full length vocal songs, including both ending themes. Strangely missing is the vocal version of "Our Riderman".There is an instrumental version. The bulk of the set is instrumental.
Kamen Rider (Masked Rider) V3
Track listing courtesy of Google translation of CD Japan page at: http://www.neowing.co.jp/detailview.htmlKEY=COCX-32029
Fight! Kamen Rider V3 (T.V. Size S.E.mix I) / Ocean court
Destron appearance
V3 ACTION THEMES
Fight! Kamen Rider V3 (Instrumental)
Double Rider's last will and testament
Boy rider squad
Boy Kamen Rider Corps song (Instrumental)
Entertainment songs
One day vane Cyprus
Imminent danger
V3 vs. Decepticons Phantom
When victory
Trailer music
Boy Kamen Rider Corps song (T.V. Size) / Mizuki Junichiro
Fight! Kamen Rider V3 / Ocean court
Boy Kamen Rider team song / Mizuki Junichiro
Hurricane Macon's Run / child gate Figure
Kamen Rider Anthem / child gate Figure
V3 one song / Mizuki Junichiro
V3's March / Mizuki Junichiro
Destron Anthem
V3 action / child gate Figure
V3's lullaby / Yuko Inoue
Deathless man / Mizuki Junichiro
Our Kamen Rider V3 / Cradle Society Inc.
Fight! Kamen Rider V3 (Alternate Version) / Ocean court
fight! Kamen Rider V3 (T.V. Size theme song karaoke collection)
Fight! Kamen Rider V3 (T.V. Size) / Ocean court
Irreplaceable people
Our Kamen Rider V3 (Instrumental)
Rider squad friends
Boy Kamen Rider team song (T.V. Size Instrumental)
Destron's dazzle
Destron's Anthem (Instrumental)
Combat zone
V3 action (Instrumental)
The lonely road warriors Way
V3 one song (Instrumental)
TENAKI pursuit battle
Macon's Run hurricane (Instrumental)
Boy Kamen Rider team song (T.V. Size No Edit) / Mizuki Junichiro
Fight! Kamen Rider V3 (T.V. Size S.E.mix II) / Ocean court
One person killed in action
Deathless man (Instrumental)
V3's lullaby (Instrumental)
Rider 4 for you! -- I rider Man (Instrumental)
V3's theme (Instrumental)
Bloodthirsty hunter
Kamen Rider Anthem (Instrumental)
At the end of the Decepticons
Assault! Destron Phantom
Fight! Kamen Rider V3 (T.V. Size Instrumental)
The Sun Also Rises
Fight! Kamen Rider V3 (T.V. Size consideration for Type A) / Ocean court
Macon's Run hurricane (T.V. Size) / child gate Figure
Fight! Kamen Rider V3 (review for collection) / fight! Kamen Rider V3
(T.V. Size consideration for B / Mizuki Junichiro