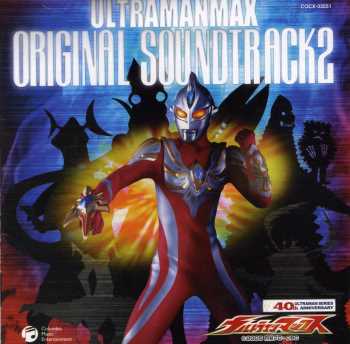 © 2006 Lawrence Tuczynski
Information courtesy of John M Emmons
| | |
| --- | --- |
| Title | Ultraman Max Original Soundtrack Volume Two |
| CD Label | Columbia Music Entertainment |
| CD Number | COCX-33551 |
| Music by: | Kuniaki Haijima |
| Number of tracks | 33 |
| Running time | 43:22 |
| Number of discs | 1 |
| Year of release/manufacture | February 22, 2006 |
REVIEW

Review by John M Emmons

August 28, 2006

The second volume of Ultraman Max music starts off with the title music, and, as far as I could tell, it's no different than the version presented at the end of volume one. The album starts off with some nice action/suspense pieces. I especially liked track four; with its low brass, it sounded very Godzilla-esque. But a majority of the pieces are quiet by nature and very melodic.

This album is mainly symphonic pieces, which I can tell is more of Haijima's strong point anyway. There's a couple new variations on the Ultraman Max theme (track 13 in particular), but the DASH theme is missing completely. There are also two upbeat instrumental versions of the title song, followed by a song by Bad Scanners, who guest-starred in one of the episodes.

I like listening to this relaxing album, but with both Volume One and this second volume only roughly 80 minutes of music combined on the two CDs, it isn't as comprehensive as a collection that were made for Cosmos or Nexus.
Ultraman Max Original Soundtrack Volume Two
Track information courtesy of Jolyon Yates.
Ultraman Max (TV size) performed by Team Dash with Project DMM
Ultraman Max 2
Monster Heaven
Come Here
Galaxy Sword
Secret battle
Hello
Trapped Space
I Want to Go back
The Storm has Come
Doughnut Hole
Defence Guard Planet
Max in the Light
Eria JAA 799
Spaceman
Copernicus
Year 2076
Something Lost
Starship
Max Touch
I'm Back
From the Earth?
Antenna
Who Are You?
I Am I
What?
Bamba Lucia
I Want to See the Clear Sky
Oneself
Astronomical Observatory
Ultraman Max ~ Arrangement A
Ultraman Max ~ Guitar B
Not So Bad performed by Bad Scanners