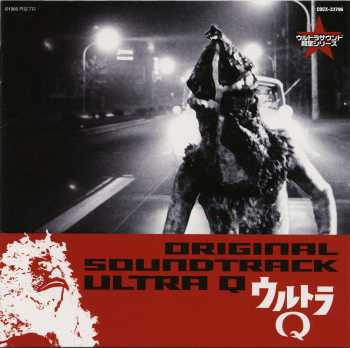 © 2008 Lawrence Tuczynski
Scans & info provided by John M Emmons
| | |
| --- | --- |
| Title | Ultra Sound Dendo Series Volume 1: Ultra Q |
| CD Label | Columbia Music Entertainment, Inc. |
| CD Number | COCX-33796 |
| Music by: | Kunio Miyauchi |
| Number of tracks | 24 |
| Running time | 70:53 |
| Number of discs | 1 |
| Year of release/manufacture | July 26, 2006 |
REVIEW

January 21, 2008

Review by John M Emmons

According to CD Japan, the "Ultra Sound Dendo Series" is a series of re-released soundtracks to celebrate the 40th anniversary of Ultraman, combining previously released tracks with rare tracks. There have been nine volumes released.

The music featured on this album is more mysterious and eerie than the lighthearted music associated with Miyauchi's Ultraman soundtrack, though it does have a couple songs sung by children. My favorite track is the main theme, which consists of a simple guitar riff with backing brass. This theme is occasionally hinted at in a number of variations throughout the album.

Unfortunately, this is my first Ultra Q album, so I cannot compare this release with previous ones, but with over an hour of music, there's plenty for new and old fans to listen to.
Ultra Sound Dendo Series Volume 1: Ultra Q
English track title translations courtesy of John Emmons
Main Title
Prologue
Theme 1 (Ultra Q Theme M-2)
Defeat Gomesu!
Peguila Has Come!
Fear of Ice
Grow! Turtle
Underground Super-Express to the West
Barunga
I Saw A Bird
Melody of Destruction
Tokyo Ice Age
Kanegon?s Cocoon
Garamon?s Counterattack
The Rainbow Egg
Underwater Hominid Ragon
Theme 2 (Ultra Q Main Theme (Edit Version))
Transformation
Rage of the South Seas
Burn on, Glory
The Collapse of A Large City
Statue of Goga
Song of Giant Monster
Ultra March