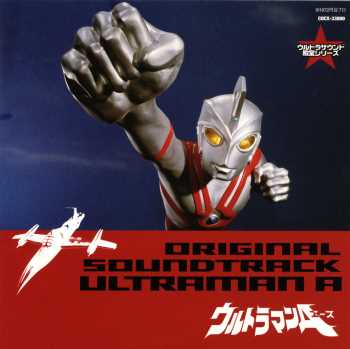 © 2008 Lawrence Tuczynski
Scans & info provided by John M Emmons
| | |
| --- | --- |
| Title | Ultra Sound Dendo Series Volume 5: Ultraman Ace |
| CD Label | Columbia Music Entertainment, Inc. |
| CD Number | COCX-33800 |
| Music by: | Toru Fuyuki |
| Number of tracks | 25 |
| Running time | 70:16 |
| Number of discs | 1 |
| Year of release/manufacture | August 23, 2006 |
REVIEW

January 28, 2008

Review by John M Emmons

Ultraman Ace is the fifth volume in the "Ultra Sound Dendo Series," made in conjunction with the 40th anniversary of Ultraman.

I own the previously released soundtrack by VAP, so I will be focusing on the differences between the releases. The sound quality of the newer release is sharper, but there's not probably a huge difference overall. VAP's Short Piece Collection is about half a minute longer and the last three bonus tracks (20-22) are not included with the newer release. Columbia's version does have a couple new tracks (12, 16, 25) including a stereo version of the main title song.

Overall, the differences aren't huge. About 95% of the music is on both albums. If you already own the VAP version, I can't recommend buying this just for a few more tracks and slightly better sound, but the new release is a good substitute for those who can't find the older, probably out of print, album.
Ultra Sound Dendo Series Volume 5: Ultraman Ace
English track title translations courtesy of Jolyon Yates
Main Title 1 ~ Ultraman Ace (TV size A Type)
Superbeast Appearance!
Shine, 5 Ultra Brothers ~ Ultraman Ace is Born
TAC's Theme (Terrible monster Attacking Crew)
Fight, Ultraman Ace!
Peace on Earth
Preview Music
Main Title 2 ~ Ultraman Ace (TV size B Type)
Other-Dimensional Men Yapool
TAC's Week
Giant Monster Fury
TAC's Song
Melancholy TAC
Zoffy's Ballad
Bridge, Ending Collection
Superbeast 10 Woman? (Hachino Musashi had Died ~ Humming)
Ultraman Ace (1 chorus instrumental)
6th Ultra Brother
Uncanny Phenomenon
Quiet Terror
TAC's Defeat
Fight, Ultraman Ace!
Our Ace
Tomorrow's Ace is You!
Ultraman Ace