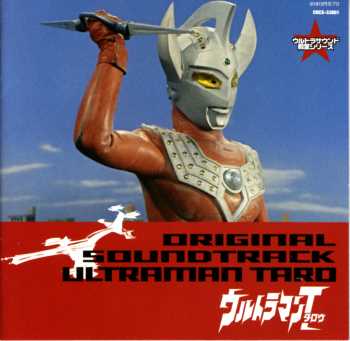 © 2013 Lawrence Tuczynski
ALL info and cover scans courtesy of John M. Emmons
| | |
| --- | --- |
| Title | Ultra Sound Dendo Series 6 Ultraman Taro |
| CD Label | Columbia Music Entertainment, Inc. |
| CD Number | COCX-33801 |
| Music by: | Masanobu Higure and Makoto Kawaguchi |
| Number of tracks | 32 |
| Running time | 67:42 |
| Number of discs | 1 |
| Year of release/manufacture | August 23, 2006 |
REVIEW

November 09, 2013 courtesy of John M. Emmons

"Ultraman Taro" was one of the only early Ultraman series that did not feature music composed by Tohru Fuyuki. The songs were written by Makoto Kawaguchi, and the instrumental ("background") music was composed by Masanobu Higure. Higure's unusual music fit better the bizarre stories and outlandish outfits of Taro than Fuyuki's more serious fare.

"Ultra Sound Dendo Series" was released in 2006 in conjunction with the 40th Anniversary of Ultraman. The soundtrack features a few tracks that were not released in the previous VAP record. These tracks are an extended version of the title song, a vocal version of "6 Ultra Brothers," and the song "The Ballad of Mother of Ultra."

The "Ultra Dendo Sound Series" has been digitally remastered, and the sound quality does seem sharper to my untrained ears. This is a solid collection of music from the series and a nice replacement for the VAP release.
Ultra Sound Dendo Series 6 Ultraman Taro
Main Title - Ultraman Taro (TV Size Lyrics 1)
Prologue (The Beginning of the Story)
Kotaro Higashi
Appearance! Ultra Giant Monster
ZAT March
Birth of Ultraman Taro
Ultraman Taro (Full Chorus)
Kotaro and Swan, Brother and Sister
Strange Incident
ZAT Mobilized!
Roar of the Giant Monster
Bright Ultra Badge
Ultraman Taro (Taro's Fight)
Investigator's Victory
Ultraman Taro (Karaoke)
6 Ultra Brothers (Karaoke)
Music for the Trailer
A Small Pupil
Midnight Monster Mystery
The Mountains to the Sea
Kotaro's Youth
Uneasiness
Setting Sun
Council of War
Monster Destruction Strategy
ZAT Great Bravery
Ultraman Taro (TV Size Lyrics 2)
Naru Mother Mystery
Ballad of the Mother of Ultra
6 Ultra Brothers
Surrounded by Smiles
Epilogue (Kotaro's Journey)