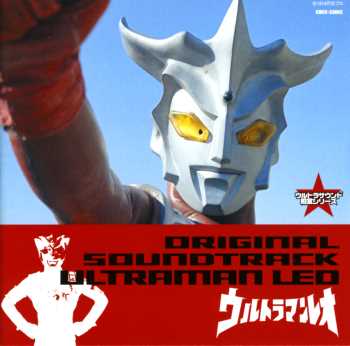 © 2013 Lawrence Tuczynski
ALL info and cover scans courtesy of John M. Emmons
| | |
| --- | --- |
| Title | Ultra Sound Dendo Series 7 Ultraman Leo |
| CD Label | Columbia Music Entertainment, Inc. |
| CD Number | COCX-33802 |
| Music by: | Tohru Fuyuki and Makoto Kawaguchi |
| Number of tracks | 24 |
| Running time | 71:59 |
| Number of discs | 1 |
| Year of release/manufacture | September 20, 2006 |
REVIEW

November 10, 2013 courtesy of John M. Emmons

"Ultraman Leo" saw the return of composer Tohru Fuyuki and songwriter Makoto Kawaguchi. While more serious in tone than its predecessor, the music does not reach the high standards left by the previous "Ultra Seven" or "Return of Ultraman".

In this edition, there are a number of changes compared to the previously released VAP album. The "Wunderbar MAC" song was replaced by two versions of "March of MAC." Most of the short pieces and guitar pieces were left out. There were a few cues that I don't remember hearing on the VAP release, but the majority of the instrumental music was the same. The karaoke version of "Ballad of the Starry Sky" was replaced by the actual song. The last song is the full version of the "Ultraman Leo" song.

With approximately 8 more minutes that they could have filled with missing music, I would be hard pressed to call this the definitive release of music from "Ultraman Leo."
Ultra Sound Dendo Series 7 Ultraman Leo
Ultraman Leo (opening T2 & cry + TV size)
The Target is a Star
The Sinking Sun
The Fierce Young Lion
Gen's Youth
Ballad of the Starry Sky
Alien Killer
Space Fortress
March of MAC (Karaoke)
Accident in Broad Daylight
Imminent Crisis
Ultraman Leo - Fight
Beyond the Feelings
Fight! Ultraman Leo (TV size)
The Unforgettable Homeworld
A Strange Visitor
Fun Between Friends
March of MAC
Dread of the Saucer Monsters
Fight! Ultraman Leo
The Day of Leo's Victory
The Hero's Journey
Towards the Future
Ultraman Leo