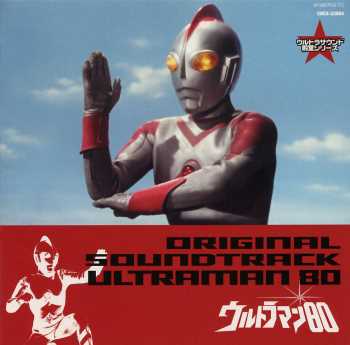 © 2008 Lawrence Tuczynski
Scans & info provided by John M Emmons
| | |
| --- | --- |
| Title | Ultra Sound Dendo Series Volume 9: Ultraman 80 |
| CD Label | Columbia Music Entertainment, Inc. |
| CD Number | COCX-33804 |
| Music by: | Toru Fuyuki |
| Number of tracks | 20 |
| Running time | 72:11 |
| Number of discs | 1 |
| Year of release/manufacture | September 20, 2006 |
REVIEW

February 04, 2008

Review by John M Emmons

Ultraman 80 is the ninth and last volume in the "Ultra Sound Dendo Series," made in conjunction with the 40th anniversary of Ultraman.

While both the main Ultraman 80 song and the U.G.M. song (Utility Government Members) sound very dated, there's also an infectious energy to them. Most of the album focuses on instrumental variations of these two themes, ranging from trumpet solos to full orchestra renditions. Tracks four and eleven are strong tracks featuring typically tense music that easily evokes images of monsters rampaging Tokyo.

This is my first Ultraman 80 album, so I cannot compare this release with previous ones. Unlike the other two Dendo Series albums, the majority of the tracks are in stereo. I really enjoyed listening to this album and recommend it to fans of Toru Fuyuki.
Ultra Sound Dendo Series Volume 9: Ultraman 80
English track title translations courtesy of Jolyon Yates
Main Title ~ Ultraman 80 (TV Size)
Ultraman Teacher
UGM
Monster Appearance
Our Ultraman 80
Teacher Mystery
Let's Go UGM (TV Size)
UGM Holiday
Sure Kill! Formation Yamato
Beautiful Transfer Teacher
Tokyo Silent Strategy
Revived Legend
Let's Go UGM
Main Title II ~ Keep It Up Ultraman 80 (TV Size)
Fly to Demonic Monster Island!!
Ultra Star Warrior
I'm a Terran (TV Size)
Soldier returns to the Star
The Guy with a Burning Heart ~ Takeshi Yamato's Song
Ultraman 80