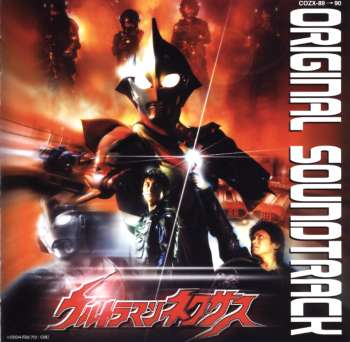 © 2004 Lawrence Tuczynski
Title
ULTRAMAN NEXUS ORIGINAL SOUNDTRACK - Fight the Future
CD Label
Columbia Music Entertainment, Inc. Japan
CD Number
COZX-89~90
Music by:
Kenji Kawai
Number of tracks
47
Running time
68:51
Number of discs
2
2nd disc is a region 2 short bonus DVD
Year of release/manufacture
November 25, 2004
REVIEW

December 22, 2004

Music by Kenji Kawai of "Innocence" fame. Comes with a DVD containing recording session footage, TV spot and more. The DVD is region-2 encoded (Japan, Europe, and Middle East), and carries no subtitles.

After listening to this CD all the way through once, I can say I really enjoyed it. Unlike other recent Ultraman CD's, there are not a lot of vocal tracks on this one. In fact the only vocal track is the last one which is probably the theme song. The music itself has a variety of tempos, mostly in the mid to fast range. While this soundtrack is to a live action television show on Saturday nights in Japan, the music has an anime feel to it. However I can see this music fitting into a TV show as well.

The bonus DVD doesn't contain a lot of material and only runs about 7 minutes total. It does have some footage of the vocal singers recording in the studio as well as some Japanese speaking by others involved. It also contains a trailer. Nice for a bonus disc but would have been better with some actual movie footage or outtakes.
ULTRAMAN NEXUS ORIGINAL SOUNDTRACK - Fight the Future
Translations courtesy of John Cassidy
DISC 1

Main Title (M-OP)
Nexus -Encounter- (M-1)
Night Raiders -Scramble_ (M-8A)
Koumon's Theme (M-17A)
Riko's Theme (M-20A)
TLT (Tilt) -Huge Organization- (M-13)
TLT (Tilt) -Secret Base- (M-12A)
Space Beast -Forming- (M-21)
Night Raiders -Patrol- (M-11)
Mysterious Character (M37)
Heart Break (M-47A)
Shock (M-58)
An Incident Occurs (M-31)
Space Beast -Crash- (M-24)
Night Raiders -Battle- (M-10)
Space Beast -Invasion- (M-23)
Terror In Combat (M-43)
Nexus -Descent- (M-3)
Nexus -Dash- (M-4)
Nexus -Disappear- (M-7A)
Himeya's Theme (M-18A)
Eye-Catch (Commercial Break) (M-8B)
TLT (Tilt) -Mission- (M-12C)
Space Beast -Ferocious- (M-28)
The Shriek That Tears The Darkness Asunder (M-33)
Mobilize And Search For The Enemy (M-35)
Nagi's Theme (M-19A)
Memory Police (M-14)
The Tense Atmosphere (M-46)
The Undying Past (M-44)
Space Beast -Awakening- (M-26)
Thunder (M59)
Space Beast -Charge- (M-27)
Space Beast -Stampede- (M-30)
A Warrior's Destiny (M-51)
Space Beast -Stalked- (M-22)
Night Raiders -Attack- (M-9)
Birth Of A Demon (M-15)
Requiem (M-50A)
Space Beast -Rage- (M-29)
Violation (M-16A)
The Time For The Decisive Showdown (M-49C)
Nexus -Appearance- (M-2)
Nexus -Heroic- (M-5)
Nexus -Final Fight- (M-6)
Friends (M-49A)
Fight The Future ~Ultraman Nexus' Theme~
Lyrics: Gorou Matsui
Music: Kenji Kawai
Arrangement: Hiromasa Kagoshima
Vocals: Project DMM
DISC 2
SPECIAL DVD: Making of ULTRAMAN NEXUS Music

"Theme of NIGHT RAIDER" Recording Session Video
"Fight The Future ~Ultraman Nexus' Theme~" Recording Session Video
Promotional Spot Videos