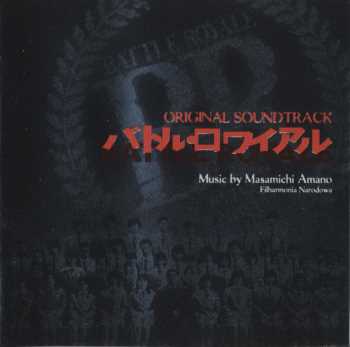 © 2006 Lawrence Tuczynski
| | |
| --- | --- |
| Title | BATTLE ROYALE |
| CD Label | Volcano |
| CD Number | CPC8-3035 |
| Music by: | Masamichi Amano |
| Music Performed by: | POLAND NATIONAL WARSAW PHILHARMONIC ORCHESTRA |
| Number of tracks | 23 |
| Running time | 70:54 |
| Number of discs | 1 |
| Year of release/manufacture | December 20, 2000 |
REVIEW

October 09, 2006

The following information and track titles for this CD are from http://www.hexacord-america.com/japan/cpc8_3035.html.

"At the dawn of the Millenium, the nation collapsed. At 15% unemployment, 10 million were out of work, 800,000 students boycotted school. The adults lost confidence, and fearing the youth, eventually passed the 'Millenium Educational Reform Act'...AKA: The BR Act." - opening graphics introduction to Battle Royale Easily one of the most provocative and disturbing films to come out of Japan (until Suicide Club was released in 2002) and a contemporary cult favorite.

My 2 cents worth:

I didn't enjoy this CD as much as the sequel CD. This is made up of classical pieces of music as well as some original pieces by Masamichi Amano. While I enjoy listening to classical music from time to time, the second CD for me was the better of the two. Parts of track 1 reminded me of some of the stock music in the U.S. Superman TV shows of the 50's. Track 2 even had a small queue that reminded me of the Batman movies mixed with a little of the marches from "Alien 2". Don't get me wrong, this CD is also a fine listening experience, I just preferred the sequel's music. Of course I have never seen either film so have no idea how well the music works for these films.
BATTLE ROYALE
Requiem (Guiseppe Verdi) - Prologue (Masamichi Amano)
New Century Education Reform Law
A Fearful Teacher
Game Start
Memory Of The Orphanage
Slaughters
Radetsky-Marsch Op. 228 (Johan Strauss I)
The Person Put Into The Game, Put Out Of The Game
An Der Schonen, Blauen Donau Op. 134 (John Strauss II)
Escape Of Nanahara And Noriko
Friendship - Tapping
Auf Dem Wasser Zu Singen D. 774 (Franz Schubert)
Winner Of Sorrow
Kiriyama's Attack
Mimura's Determination
Yukie and Nanahara - Poison
Battle Of Girls
Meeting Again
Aria from Orchestral Suite No.3 (Johann Sebastian Bach)
The Third Man
Teacher & Students - Final Battle
Unpleasant Victory
Hopeful Departure