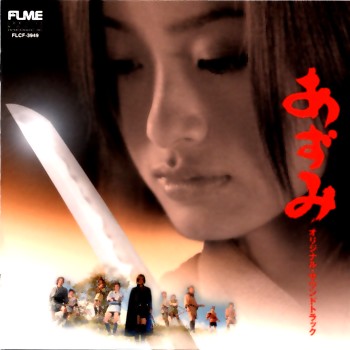 © 2004 Lawrence Tuczynski
Title:
AZUMI (Music Inspired From The Original Motion Picture)
CD Label:
For Life Music Entertainment, Inc.
CD Number:
FLCF-3949
Music by:
Sextasy Room
(Taro Iwashiro & Hide Fukasawa)
[Except track 11]
Number of tracks:
11
Running time:
62:37
Number of discs:
1
Year of release/manufacture:
05-07-2003
REVIEW

January 25, 2004

I was fortunate enough to see this movie on DVD a few weeks ago when a friend brought it over to my house. It was a fun samurai movie in the vein of some of the Zatoichi and Lone Wolf & Cub movies and some of Akira Kurosawa's epics like "RAN" and "Throne Of Blood". The main difference here is that all the warriors were young adults who had been raised in an isolated camp since early childhood and groomed to be warriors. Also the twist here is that the main character and best fighter is a young woman. I enjoyed the films and what music I remember being in it.

This CD may have some of the music from the movie but the title suggests it's one of those "Music inspired by" CD's. In this case that's not a bad thing. The 1st track is a very nice vocal track. The rest of the tracks are instrumental except for Track 11. Funny this is the only track title written in Japanese on the CD case. It took a lot of searching to try to come up with the translation but from various sources it seems to be a vocal track called "Request" by a female vocalist, Mina Ganaha. Some sites also list this as the main theme. I really can't remember if it is or not. But it's a sweet track sung in Japanese with a modern pop flavor. The instrumental tracks between the two vocals are also a pleasant listen and do fit the type of movie they are for with a variety of action tracks and slower character driven tracks.

I enjoyed both this CD and the movie. I also found it a bit ironic that the CD label is called "For Life" and the movie has hundreds of people being hacked to death with swords.
AZUMI (Music Inspired From The Original Motion Picture)
Heart To Heart
Words by Yuriko Mori
The Guilts Of Us
Entrance To The Depths
Behind The Dream
Intro The Sound Of Darkness
Steps To Death
In The Sense Of Genuineness
Outroduction Before The New Day
On The Fates Field
A Battle Of Soul
Request
by Mina Ganaha