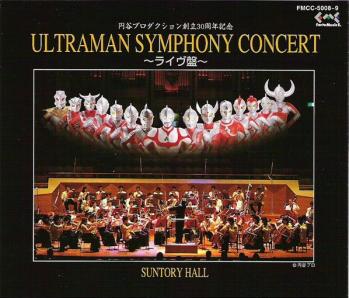 © 2004 Lawrence Tuczynski
Title
Ultraman Symphony Concert
CD Label
Forte Music Entertainment Inc.
CD Number
FMCC-5008/9
Number of tracks
Disc 1 - 7
Disc 2 - 11
Running time
Disc 1 - 42:44
Disc 2 - 64:29
Number of discs
2
Recorded:
Suntory Hall 7/28/1993
Year of release/manufacture
11-21-1993
REVIEW

Updated January 17, 2005
Review courtesy of Robert Storch who also provided all the information here

This is a very rare 2-CD set from 1993 and trying to find out any information on it has been almost impossible whenever I search the web. It seems to be the only other source available that contains the complete score for "Ultraman Great" - another hard to find CD from 1992 (COCC-9745) located elsewhere on this site. While the music for that CD seems to have been recorded in a studio (or a hall), the "Ultraman Great" suite presented here was performed live in concert, but still contains the exact same tracks as the other disc. The conductor of the 1992 CD, Patrick Thomas, may be the same person who conducts the Ultraman Great Suite on this 2-CD set since there is a photo of him in the booklet, but I can't be 100 percent sure. I am not too familiar with the other Ultraman themes that are performed here, but there is a lot of variety and a number of vocal tracks on Disc 2. The music and performance on this release is very good and I can highly recommend it for anyone who wants to hear Ultraman music performed live in concert. Also, for anyone who has been trying to find the music from "Ultraman Great" and gets a chance to buy one of these rare CDs - pick it up fast, both are long out of print!
TSUBURAYA PRODUCTIONS 30th ANNIVERSARY ULTRAMAN SYMPHONY CONCERT
Translations courtesy of Jolyon yates
(The CD cover gives track titles in English & Japanese. My translations of the Japanese titles are in parenthesis)

Disc 1
Part 1 - ULTRAMAN GREAT Symphonic Suite
Prelude (Prelude)
Ultraman Towards the Future (Silver Giant)
The War of Deities (The War of Deities)
Jean Echo (Love Controller)
The Sword of Wisdom (Challenge to The Unknown)
The Wriggling for Cataclysm (Wriggling for Cataclysm)
The Japanese title can be read as "Writhing about causing Collapse"
Ultraman Legend (Eternal Hero)
Disc 2
Part 2 ULTRA COSMO Symphony
1st Movement: Beyond The Sun
2nd Movement:Bathe in Light
3rd Movement: From Darkness' Abyss
4th Movement: Brilliant Ring

Part 3 Tsuburaya Productions

Mighty Jack song
Ultraman USA
Fighting Earth Defence Force wunderbar medley:

ULTRA SEVEN: Ultra Seven
RETURN OF ULTRAMAN: MAT (Monster Attack Team)
ULTRAMAN LEO: Wunderbar MAC (Monster Attacking Crew)
ULTRAMAN ACE: TAC Song (Terrible monster Attacking Crew)

VICTORIOUS SOLDIERS Theme Song 'Silver Boys'
ULTRAMAN MONSTERS GREAT SHOWDOWN Theme 'Ultraman Song'
Ultraman - Love For Children
ULTRAMAN Theme Song 'Ultraman Song'