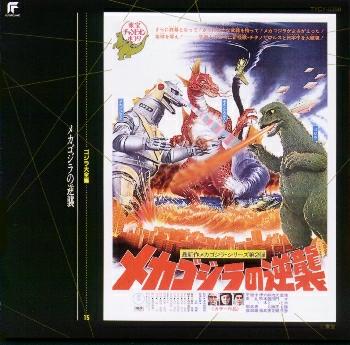 © 1998 Lawrence Tuczynski
Title:
MechaGodzilla's Counterattack
Japanese Title:
MechaGojira No Gyakushu
Movie also known as:
Terror Of Godzilla
Terror Of MechaGodzilla
CD Label:
Futureland / Toshiba EMI Japan
CD Number:
TYCY-5359
Music by:
Akira Ifukube
Number of tracks:
24
Running time:
36:21
Number of discs:
1
Year of release/manufacture:
1993
Year Movie Released in Japan:
1975
Year Movie Released in U.S.:
1977
DVD Released in U.S.:
May 1998, SIMITAR #7476
Both Widescreen and Pan & Scan versions plus Dolby Digital 5.1 sound
April 29, 2008 - Classic Media. Contains BOTH English and original Japanese version with several extras.
| | |
| --- | --- |
| REVIEW | This last film in the original Godzilla series brings back Akira Ifukube one more time. The "Main Title" starts off with a reworking of several very familiar pieces of music and you instantly know this is a Godzilla score. Again there is very little really new stuff here but there is a smattering of newer music here and there. This CD has a nice mix of the familiar along with some soft, cathedral sounding pieces. All in all a worthwhile finale to the first round of Godzilla films. |

U.S. Title:      Mechagodzilla's Counterattack
Japanese Title:  Mechagojira No Gyakushu

1	Main Title
2	'Akatsuki One' in Distress
3	Mugar* Heads to Earth
4	Dr. Mafune's Past
5	The Female in the Mafune Family
6	Off to Mount Amagi
7	MechaGodzilla II
8	Ichinose and Katsura
9	Katsura's Memories
10	Escape from Titanosaurus
11	Ichinose Gets Tailed
12	Titanosaurus Swings into Action
13	Titanosaurus Attacks
14	The Appearance of Godzilla 
15	Cyborg Surgery
16	The Mafune Family Tragedy
17	MechaGodzilla II Goes on the Offensive
18	MechaGodzilla Counterattacks
19	Godzilla vs. The Mega Monster Tag-Team
20	Godzilla in Danger
21	Resurrection of Godzilla
22	Sharpshooting
23	Katsura's Death
24	Ending	

*  This is a direct transliteration from the Japanese.