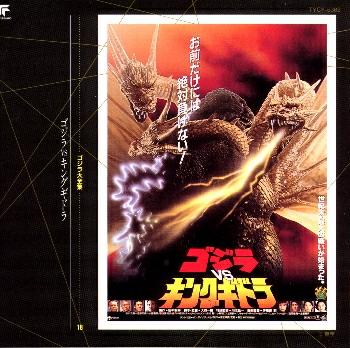 © 1998 Lawrence Tuczynski
Title:
Godzilla vs. King Ghidorah
Japanese Title:
Gojira Tai Kingu Gidora
Movie also known as:
N/A
CD Label:
Futureland / Toshiba EMI Japan
CD Number:
TYCY-5362
Music by:
Akira Ifukube
Number of tracks:
39
Running time:
45:48
Number of discs:
1
Year of release/manufacture:
1993
Year Movie Released in Japan:
1991
Year Movie Released in U.S.(Video):
1998
DVD Released in U.S.:
Double DVD, Columbia/Tri-Star #03132, Nov.1998
Also has 1992 "Godzilla vs. Mothra"
REVIEW

This is the single CD set of Godzilla Versus King Ghidora and has Akira Ifukube back at the helm. Kind of funny but this single disc contains more tracks than the 2 CD set. Track #14 sounds like a funeral march. This CD contains a few nice new pieces along with some creative reworkings of things he's done before. Track #15, "The Garrison Charges", has a sound you'd expect to hear in an old US Cowboy & Indian movie when the calvary comes charging to the rescue.

This is a thoroughly enjoyable CD to listen to and holds up well as a stand alone listening experience.

U.S. Title:      Godzilla Versus King Ghidora
Japanese Title:  Gojira Tai Kingu Gidora

 1	Opening
 2	Main Title
 3	UFO Raid
 4	Remembering Lagos Island
 5	The Unidentified Flying Object
 6	Dinosaur Photo(s)
 7	The Self-Defense Force Swings into Action
 8	3-D Image(s) I
 9	3-D Image(s) II
10	Teleportation
11	Suggestion(s) from the Future
12	MOTHER
13	The Dorats
14	The Lagos Island Garrison
15	The Garrison Charges
16	Godzillasaurus
17	Godzillasaurus' Resurrection
18	Farewell to the Dinosaurs
19	The Dorats of Lagos Island
20	King Ghidorah's Shadow
21	King Gidorah Attacks Fukuoka
22	Terazawa & Emi
23	At the Bottom of the Bering Sea
24	Android M-11
25	The Giant Column of Water
26	The Appearance of Godzilla
27	Godzilla Comes Ashore in Hokkaido
28	King Ghidorah Crashes
29	King Ghidorah Beheaded
30	Godzilla's Victory
31	The Sapporo Clock Stand
32	The Appearance of Mecha-King Ghidora
33	Farewell My Homeland
34	Ending Mix I
35	Ending Mix II
36	Main Title
37	The Appearance of Mecha-King Ghidora
38	Get King Ghidorah!
39	Rolling Titles