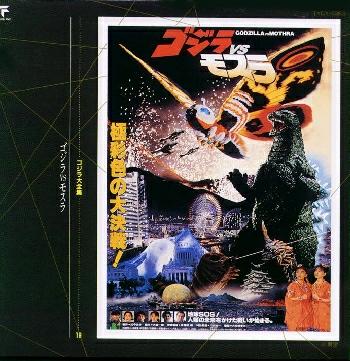 © 1998 Lawrence Tuczynski
Title:
Godzilla vs. Mothra
Japanese Title:
Gojira Tai Mosura
Movie also known as:
Godzilla & Mothra: The Battle For Earth
CD Label:
Futureland / Toshiba EMI Japan
CD Number:
TYCY-5363
Music by:
Akira Ifukube
Number of tracks:
30
Running time:
48:12
Number of discs:
1
Year of release/manufacture:
1993
Year Movie Released in Japan:
1992
Year Movie Released in U.S. (Video):
1998
DVD Released in U.S.:
Double DVD, Columbia/Tri-Star #03132, Nov.1998
Also has 1991 "Godzilla vs. King Ghidorah"
REVIEW

Another Akira Ifukube score. This one has many short cue's. There's very little new stuff here along with reworked familiar music from past films. The new stuff is, for the most part, slower paced music rather than the rousing marches we've come to expect from Mr. Ifukube. We also get the easily recognized "Mothra" song here by a new set of twin "fairies". Some of the music here, even though reworked, is starting to sound the same and over used by this soundtrack. While some of the music certainly belongs in scenes featuring the big G, it would have been much better to try something new but to stay within the same type of action music and rousing marches.

This is a nice CD to listen to but most of the music leans toward slow tunes that put you in an emotional state of sadness.

U.S. Title:      Godzilla Versus Mothra
Japanese Title:  Gojira Tai Mosura

1	The Fall of the Meteorite
2	Main Title
3	The Golden Image of Ganesh
4	Destruction of the Temple
5	The Iceberg Incident
6	Infant Island
7	Collapse of the Suspension Bridge
8	Midori's Letter
9	Strange Cave
10	Discovery of the Giant Egg
11	The Legend of the Cosmos
12	The Giant Egg in Tow
13	Battra's Fury
14	The Appearance of Godzilla
15	The Hotel in Manila
16	Mothra's Song
17	Mahala Mothra                                    
18	Mothra Heads to Akasaka
19	The Young Girl and the Cosmos
20	The Cocoon at the Japanese National Assembly Building
21	Godzilla Comes From Fuji Volcano
22	The Birth of Adult Mothra
23	The Birth of Adult Battra
24	Mesa March                                       *1
25	Mothra vs. Battra
26	Luminous Fairies
27	The Three Monsters Fight to the Death
28	The Halo Above the Water
29	Mothra Heads Off into Outer Space
30	Rolling Titles/Ending


*1  This is a direct transliteration from the Japanese.