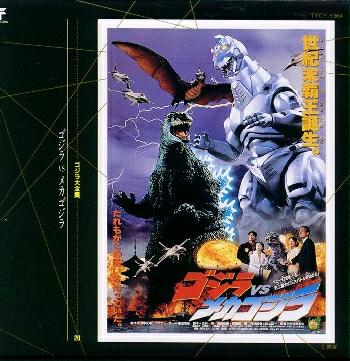 © 1998 Lawrence Tuczynski
| | |
| --- | --- |
| Title: | Godzilla vs. MechaGodzilla |
| Japanese Title: | Gojira Tai Mekagojira |
| Movie also known as: | Godzilla vs. Super-Mechagodzilla |
| CD Label: | Futureland / Toshiba EMI Japan |
| CD Number: | TYCY-5364 |
| Music by: | Akira Ifukube |
| Number of tracks: | 45 |
| Running time: | 63:35 |
| Number of discs: | 1 |
| Year of release/manufacture: | 1993 |
| Year Movie Released in Japan: | 1993 |
| Year Movie Released in U.S.: | VHS Tape - August 3, 1999 |
REVIEW

Akira Ifukube continues scoring the new Godzilla films here. This time he seems to have given us some nice new music along with the themes we have become so familiar with. Unlike the "Godzilla vs. Mothra" score that sounded very sad, the newer music here is very action and suspense oriented. This is a nice full CD clocking in at 63 + minutes. A large percentage of the tracks here are very short lasting under one minute in length each.

Not a bad CD to listen to as stand alone music if you don't mind the very short track lengths and several of the themes repeating three or more times each throughout the CD.

U.S. Title:      Godzilla Vs. MechaGodzilla
Japanese Title:  Gojira Tai Mekagojira

1	Introduction
2	Main Title
3	The G-Force Training Center
4	The Adonoa Island Fossil           *1
5	The Appearance of Radon
6	Godzilla vs. Radon
7	The Music of the Ancient Plant(s)
8	The Birth of the Dinosaur(s)
9	Baby and Azusa I
10	Godzilla Heads to Yokkaichi
11	MechaGodzilla Prepares to Attack
12	MechaGodzilla Flies at Full Speed
13	MechaGodzilla To Suga Mountains
14	MechaGodzilla vs. Godzilla
15	MechaGodzilla Electrical Attack
16	Godzilla's Fury I
17	The G-Force March I
18	Baby and Azusa II
19	Baby Godzilla in Transport
20	The Garuda1 Simulation
21	The Pterosaur Robot
22	The ESP Chorus                     *1
23	Bird of Fire
24	Starry Night Serenade
25	Radon Attacks Sendai
26	Radon Downs the Transport Helicopter
27	Radon Heads off to Makuhari        *2
28	MechaGodzilla Attacks Again
29	Garuda Attack March                *1
30	Radon and the Container
31	The G-Force March II
32	MechaGodzilla vs. Radon
33	Radon Counterattacks
34	Godzilla's Fury II
35	Godzilla's Fury III
36	The G-Force March III
37	Super MechaGodzilla
38	Search Eye                         *1
39	Radon's Life Force
40	Resurrection
41	Godzilla's Theme
42	Godzilla's Theme: Victory
43	Baby and Azusa III
44	From Miki to Baby
45	Rolling Titles

*1  This is a direct transliteration from the Japanese.
*2  Alternate translation: Radon Advances On Makuhari.