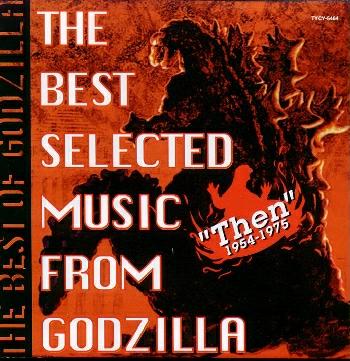 © 2004 Lawrence Tuczynski
This is a greatest hits CD taken from the 1st group of Godzilla movies
Title
The Best Selected Music from Godzilla
"Then" 1954-1975
CD Label
Monster Music / Toshiba-EMI Japan
CD Number
TYCY-5464
Music by:
Various Artists
Number of tracks
47
Running time
73:20
Number of discs
1
Year of release/manufacture
1995
REVIEW

January 31, 2004

The title says it all. This is one of many "greatest hits" CD's on this site. This disc focuses on the first Godzilla series of films. If you are new to collecting this music or don't own many of the other CD's, then this is a great CD to start with if you can find it. It's now out of print but can still occasionally be found if you look hard enough.
The Best Selected Music From Godzilla "Then" 1954-1975
[Godzilla]

Main Title
Godzilla Comes Ashore
Ending

[Gigantis, The Fire Monster]

Main Title
Ending

[King Kong vs. Godzilla]

Godzilla's Resurrection
The Plan to Rescue Fumiko
The Plan to Transport King Kong
King Kong vs. Godzilla

[Godzilla vs. The Thing]

The Sacred Fountain
Godzilla and Nagoya
Mothra Sets Off

[Ghidrah, The Three-Headed Monster]

Kurobe Valley *1
The Birth of King Ghidorah
The Three Monsters Converge

[Monster Zero]

Washigasawa and Lake Myoujinko
Godzilla at the Bottom of the Lake
Appearance of the Disc *2
Monster Mega-War March

[Godzilla vs. The Sea Monster]

The Yacht, the Storm and the Monster(s)
Flee
Godzilla vs. Ebirah
Setting Sail for Retch Island *1

[Son of Godzilla]

Godzilla and Minya
Gimantis
Godzilla vs. Spiga *3

[Destroy All Monsters]

Main Title
Title Credits
SY-3
Destroy it by Remote Control!
Escape from Monster Land

[Godzilla's Revenge]

Ichiro Heads Off to Monster Island
Encounter with Minya
Godzilla vs. Spiga *3

[Godzilla vs. The Smog Monster]

Give Back the Sun
The Two Monsters in the Factory Town
Godzilla in Flight

[Godzilla on Monster Island]

Main Title

[Godzilla vs. Megalon]

Main Title
The Attack Begins
Victory Handshake

[Godzilla vs. Mechagodzilla]

Godzilla and the Torpedo Attack
The Sun Rises in the West
Godzilla vs. Angilas

[The Terror of Godzilla]

The Manabe Family Tragedy *4
Godzilla's Revival
Ending
*1 This is a direct transliteration from the Japanese.
*2 Alternative Translation: Appearance of the Saucer
*3 The Japanese name is Kumonga
*4 Alternative translation: "The Manafune Family Tragedy".