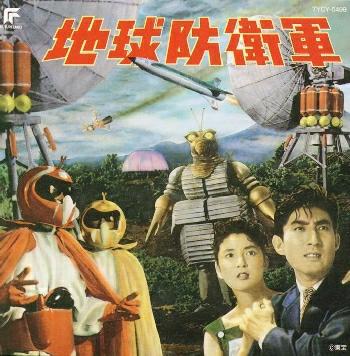 © 1998 Lawrence Tuczynski
| | |
| --- | --- |
| Title | The Mysterians |
| Japanese Title | Chikyu Boeigun |
| Movie also known as: | The Earth Defense Force |
| CD Label | Futureland / Toshiba EMI Japan |
| CD Number | TYCY-5499 |
| Music by: | Akira Ifukube |
| Number of tracks | 50 |
| Running time | 62:46 |
| Number of discs | 1 |
| Year of release/manufacture | 1996 |
| Year Movie Released in Japan | 1957 |
| Year Movie Released in U.S. | 1958 |
REVIEW

May 8, 2000

On this CD we hear some of the same marches heard on the previous disc in this series, "Rodan". We will hear these same marches in many other Toho and Godzilla movies especially in scenes that involve the military.

The various marches work well as action packed stand-alone pieces. A lot of the non march music works better in the film than as a stand-alone listening experience. Tracks 32 through 48 offer us many sound effects and the materials used to create them. Tracks 49 and 50 are audio portions of trailers from the film.

Another nicely done CD in this series with over an hour's worth of material.

Updated some title translations 10-21-99 couresy of August Ragone

U.S. Title:      The Mysterians
Japanese Title:  Chikyu Boeigun

1	Main Title
2	The Incident
3	The Collapse
4	The Appearance of Mogera
5	Mogera Attacks
6	Scientific Lunar Phenomenon
7	The Research Team Heads Off to Fuji
8	Mysterian Dome
9	The First Round of Battle
10	Demand for an International Conference
11	The Global Defense Conference
12	The Alpha and The Beta
13	Preparing to Attack
14	The Kidnapping
15	Shelter
16	Markalite FAHP 
	(F.A.H.P. stands for "Flying Atomic Heat Projector")
17	The Mysterians Retaliate
18	Furious Electron Cannon Assault
19	The Mysterians Depart
20	Ending

Collection of Alternate Takes

21	M1T1
22	M1T2
23	M1T3
24	M5T1 (only the 1st half)
25	M6T1
26	M7T3
27	M15T3
28	M19T1
29	M20T1
30	M20AT1
31	M21T1

Collection of Sound Effects
32	Sound of the Saucer in Flight 
33	Sounds Outside the Dome
34	Sounds Inside the Dome
35	Sounds of the Dome Machinery
36	Sound of the Alpha in Flight
37	Sounds Inside the Alpha
38	Sound of the Makalite FAHP Beam
39	Sound of the Electron Cannon Firing

Collection of Sound Effects (Material)

40	Mogera's Antenna 1
41	R-Violin 3:  For the Beams
42	R-Tuba 1: Outside the Dome
43	R-Pipes 1: Movement of the Makalite Dish
44	R-S Shaped Pipe Organ: Makalite and the Alpha
45	R-Drum Can 2: Sounds Inside the Alpha
46	R-Timpani 1: The Alpha Takes Off
47	R-Timpani 2: The Alpha – Stop Motion
48	R-Piano 8: Inside the Dome
49	"The Earth Defense Force"  Preview Trailer
50	"Music for the Finale:  Preview Trailer"