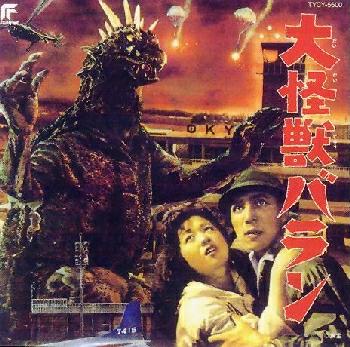 © 1998 Lawrence Tuczynski
Title
Varan, The Unbelievable
Japanese Title
Daikaijū Baran
Movie also known as:
Baran: Monster from the East
The Great Monster Baran
The Monster Varan
CD Label
Futureland / Toshiba EMI Japan
CD Number
TYCY-5500
Music by:
Akira Ifukube
Number of tracks
44
Running time
73:08
Number of discs
1
Year of release/manufacture
1996
Year Movie Released in Japan
1958
Year Movie Released in U.S.
1962
REVIEW

May 5, 2000

This CD starts off with what sounds like a variation on the jungle music from "King Kong vs. Godzilla". Track #5 contains some male voices chanting in the background. Most of the tracks here sound very similar to and derived from music in other Godzilla and Toho films scored by Akira Ifukube up to this point in time (1958). Some tracks here are so close that they could have been alternate takes. Some of this music is so good and so well done on this disc that I wish some of these takes had been used in some of the other Godzilla movies over the ones that were used.

The tracks on this CD are broken up into four sections. The movie originally started out as a US and Japanese collaboration for a TV show and later was turned into a feature film. Tracks 1 through 19 are from the film and tracks 20 through 29 are tracks originally scored for the TV show. Section three is made up of alternate takes and section four is sound effects.

For this movie an American "B" movie star, Myron Healey, was used. Mr. Healey played in over 150 movies and TV shows and is best remembered for his parts as a heavy in many westerns. His face and voice is easily recognized by anyone growing up in the 50's and 60's but his name isn't so familiar. Unfortunately his acting in this film is pretty bad and I was not impressed much with this movie. In fact the best part of this movie is the outstanding score by Akira Ifukube and clearly one of his best. This is one hell of a good CD and at over 73 minutes an outstanding value. If you see this one, grab it. You won't be disappointed.

Title translations updated 10-21-99 courtesy of August Ragone

U.S. Title:      Varan, The Unbelievable
Japanese Title:  Daikaijū Baran

 1. Main Title
 2. Mystery Of The 20th Century
 3. "Iwadani Village" or "Iwatani Village" 
	(Iwatani/dani means "Stone Valley")
 4. The Anger Of Baradagi
 5. Baradagi, God Of The Mountains
 6. Fierceness Of Baran
 7. Cannon Shot Towards The Lake
 8. Fierceness Of Baran II
 9. Baran Flies
10. Fishing Boat Disaster
11. Baran vs. Fighter-Bomber 'Neptune'
12. Baran vs. Destroyer "Uranami" A
13. Baran vs. Destroyer "Uranami" B
14. Fierce Battle Begins
15. Self Defense Forces Tank Takes Action
16. Baran Lands at Haneda (Airport)
17. Special Dynamite
18. Rebirth Of Baran
19. Ending  

TV version

(This music was written for the film when it was planned as a tv-movie with
AB-PT Productions, the motion picure division of the ABC-TV network of the
United States of America; the film was originally commissioned as a US
telemovie by ABC. When this project fell through, Toho decided to proceed
with the production for domestic theatrical release. Maestro Ifukube then
penned a score fit for a theatrical release, and is arguably one of his
best.) 

20. Main Title (TV-1)
21. Rockets And Eastern Monsters
22. The Self Defense Forces to Iwadani Village
23. The Lake of Baran
24. Baran's Fierceness
25. The Self Defense Forces Retreat
26. Tokyo's Citizens Ordered To Evacuate
27. Counter Attack Ordered Against Baran
28. Transport Of Special Dynamite
29. Ending

Another Chapter
"Additional Tracks" or "Bonus Tracks"
"M"-Tracks are from the movie score ("T" denotes "take"); and "TV" denotes
cues for the aborted TV Version of BARAN.

30. M1T1
31. M1T3
32. M1T4
33. M2T2
34. M4T1
35. M11T2
36. M18T1
37. M20T1
38. TV-2T5
39. TV-3T2
40. TV-11T1
41. TV-14T2

Sound Effects

42. Baran's Caw (Cry)
43. Appearance In The Water
44. Baran's Footsteps