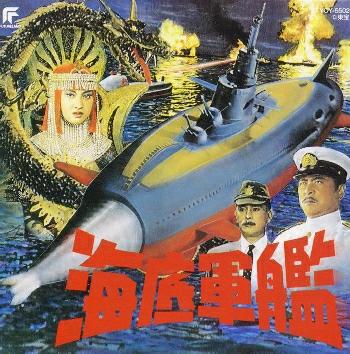 © 1998 Lawrence Tuczynski
Title
Atragon
Japanese Title
Kaitei Gunkan
Movie also known as:
Undersea Warship
Atoragon
Super Sub Atoragon
CD Label
Futureland / Toshiba EMI Japan
CD Number
TYCY-5502
Music by:
Akira Ifukube
Number of tracks
42
Running time
50:22
Number of discs
1
Year of release/manufacture
1996
Year Movie Released in Japan
1963
Year Movie Released in U.S.
1965
REVIEW

May 9, 2000

This disc starts off with some nice mid-tempo marches. We then go into a series of suspenseful sounding tracks. Tracks # 21 and # 35 feature a female vocal and male chorus chanting. Occasionally we will hear a very slight strain of something familiar from past CD's but overall the music here is new and not recycled or variations from past CD's in the series. Also, unlike some other CD's, there is very little music here that is repeated throughout the disc. Most of the tracks are all different. There's not much here in the way of very fast paced music. Most of the tracks have a mid-tempo flavor with some occasional slow tracks.

Tracks 36 through 41 are sound effects from the movie while the last track, 42, is the audio from the movie trailer.

Overall this is a good stand-alone listening experience. It's another nicely done CD in this series but a little on the short side with only a few seconds over 50 minutes worth of music.

Updated some title translations 10-21-99 courtesy of August Ragone

U.S. Title:      Atragon
Japanese Title:  Kaitei Gunkan

Toho Monster Movies:  Special Collection #5

 1	The Toho Logo
 2	Appearance of Steam Man 
 3	Main Title
 4	The Submarine Surfaces
 5	The Delivered Film
 6	The Warning of Mu
 7	Mu's Cry
 8	Special U.N. Conference Convened
 9	The Merchant Ship Goes Up In Flames
10	Fear Spreads Around the World
11	The Red Satan
12	The Submarine Returns to Port
13	Communication Ball
14	The Goten Defense Forces
	(The Goten or "Goten-go" is the name of the Undersea Warship)
15	Makoto's Theme I
16	Test Manuvers of the Undersea Warship I
17	Test Manuvers of the Undersea Warship II
18	Test Manuvers of the Undersea Warship III
19	Makoto's Theme II
20	Unno's True Colors (can also be translated as "Umino")
21	The Prayer of the Mu Empire
22	Manda, The Guardian Dragon
23	The Mu-ites at Mount Mihara
24	Mu's Declaration
25	The Undersea Warship Attacks I
26	The Undersea Warship Attacks II
27	Marunochi Sinks
	(Marunochi is the finnancial district of Tokyo)
28	Tokyo Bay Goes Up In Flames
29	Tokyo Bay and the Undersea Warship
30	The Rescue
31	The Undersea Warship vs. Manda
32	The Volunteer Corps Swings Into Action
33	Ending
34	The Zero Cannon
35	The Prayer of the Mu Empire  (Separate Take)

Collection of Sound Effects

36	The Goten: Probing
37	The Goten: Ascending
38	The Goten: Flight 
39	The Goten: Underwater Claxton
40	The Sound of the Zero Gun Firing
41	Mu Submarine:  The Sound of the Beam Firing
42	"Undersea Battleship" Preview Trailer