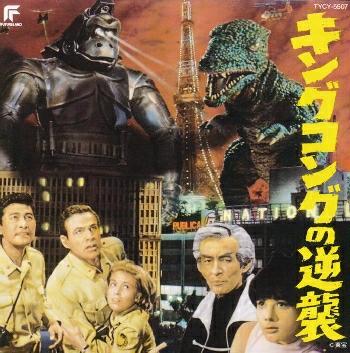 © 1999, 2014 Lawrence Tuczynski
| | |
| --- | --- |
| Title | King Kong Escapes |
| Japanese Title | Kingu Kongu no Gyakushu |
| Movie also known as: | N/A |
| CD Label | Futureland / Toshiba EMI Japan |
| CD Number | TYCY-5507 |
| Music by: | Akira Ifukube |
| Number of tracks | 39 |
| Running time | 51:19 |
| Number of discs | 1 |
| Year of release/manufacture | 1997 |
| Year Movie Released in Japan | 1967 |
| Year Movie Released in U.S. | 1968 |
REVIEW

May 10, 2000

A nicely done CD with some new themes and some music recycled from "Ghidrah: The Three-Headed Monster". Track # 28 is a long (over four minutes) piano solo. I'm not sure why but Track # 29 is listed as being part of "Frankenstein Conquers The World" and is an up-tempo guitar & drum number sounding like it came from a U.S. beach party movie. Since the CD only runs 51 minutes maybe this was thrown in to flesh out the time or maybe was left over from "Frankenstein Conquers The World" and was used here. Tracks # 30 through # 35 are alternate takes while tracks 36, 37 & 38 are sound effects. The final track is the audio from the movie trailer. A lot of the music here is repeated often.

The music here is very good and the CD worth owning if you don't mind the repetitious nature of the themes.


U.S. Title:      King Kong Escapes
Japanese Title:  Kingu Kongu no Gyakushu

Toho Monster Movies:  Special Collection #10
Toho Kaiju Eiga Senshu 10

1	Main Title
2	The Base at the North Pole
3	Starting Up Mechanikong I
4	Starting Up Mechanikong II
5	Mondo Island                  
6	The Appearance of King Kong
7	King Kong vs. Gorosaurus I
8	King Kong vs. Gorozaurus II
9	Kong and Susan I
10	The Explorer Returns
11	Plan to Capture King Kong I
12	Plan to Capture King Kong II
13	Kong at the North Pole
14	Kong's Chance Meeting
15	The Hypnosis Machine
16	Element X
17	King Kong Escapes I
18	King Kong Escapes II
19	Kong Heads to the Capitol
20	Kong and Susan II
21	Kong's Showdown
22	Tokyo Tower Showdown I
23	Tokyo Tower Showdown II
24	King Kong's Victory
25	King Kong Heads To Tokyo Bay
26	Dr. Hu's Last Moments
27	Ending
28	Madame Piranha        *1
29	Madame Piranha II [Frankenstein Conquers the World   
        (Japanese Title:   Furankenshutain Tai Chitei Kaiju)]

Collection of Separate Takes
30	M1T1
31	M1T2
32	M2T1
33	M5T2
34	M11T1
35	M16+M1T3 (Edits)

Collection of Sound Effects
36	Mechanikong's Cry
37	Mechanikong's Eye Lights
38	Gorosaurus' Cry
39	[King Kong Escapes]/Preview Edition

*1  This is a direct transliteration from the Japanese.