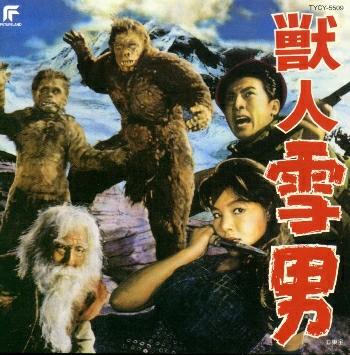 © 1999 Lawrence Tuczynski
| | |
| --- | --- |
| Title | Half Human |
| Japanese Title | Jûjin yukiotoko |
| Movie also known as: | Monster Snowman" |
| CD Label | Futureland / Toshiba EMI Japan |
| CD Number | TYCY-5509 |
| Music by: | Masaru Satôh |
| Number of tracks | 32 |
| Running time | 65:14 |
| Number of discs | 1 |
| Year of release/manufacture | 1997 |
| Year Movie Released in Japan | 1955 |
| Year Movie Released in U.S. | 1957 |
REVIEW

May 9, 2000

This CD starts off with an instrumental track containing the German song known in the U.S. as "Wooden Heart". Track # 8 is a vocal version of this song while tracks # 10 & # 24 are whistled versions. Many of the other tracks have an adventure flavor that you can easily picture in a mountainous setting. The music easily takes you into the mountains in search of an abominable snowman. Other tracks are very suspenseful. The music here is pretty different from others in this series but suits the movie perfectly. This CD is composed by Masaru Satoh instead of Akira Ifukube and is easily one of his best Toho monster movie scores.

Most of the music here is on the slow side and gets somewhat repeated often in different variations. There are also a few tracks featuring male and female choruses doing some type of chanting. It is a good listening experience however and well worth owning. The CD is also a well packed 65 minutes plus.

I'm told the Japanese version of the film is much better than the butchered U.S. release and hope to see a sub-titled copy some day.

3 title corrections courtesy of August Ragone - 10-21-99

US Title:       Half Human
Japanese Title: Toho Kaiju Eiga Senshu 12
                Jyujin Yukiotoko

 1	Main Title
 2	A Cry From The Memo Book
 3	Making Way Through the Snow
 4	Bad Weather
 5	What Was Left Behind
 6	The Search in the Melting Snow I
 7	The Search in the Melting Snow II
 8	Camping I
 9	Camping II
10	Camping III
11	The Abominable Snowman Appears
12	Desolate Valley
13	The Cliff of Death
14	A Helping Hand
15	The Prayer
16	The Sun's Final Moments
17	The Abominable Snowman's Rage
18	Kindling a Fire in Garan Valley
19	From the Hands of the Dead
20	Cave of the Abominable Snowman
21	The Death of the Abominable Snowman
22	Ending

Other Takes and Materials, etc.

23	M1T1
24	M8 (Mix)
25	M9-1
26	M9 Flute-1
27	M10'A-1
28	M10'B-1
29	M11A-1
30	M15 (Without echoes)
31	Prayer-3-1
32	MX-1