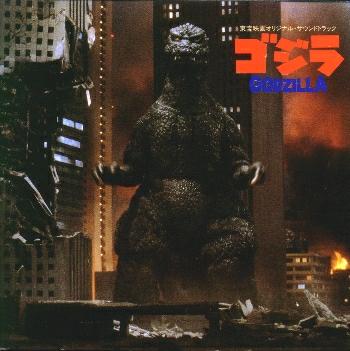 © 1998 Lawrence Tuczynski
Title
Godzilla
Japanese Title
Gojira
Movie also known as:
Godzilla 1984
The Return Of Godzilla
CD Label
King Record Co. / Star Child
CD Number
230A 7022
Music by:
Reijiro Koroku
Number of tracks
29
Running time
49:22
Number of discs
1
Year of release/manufacture
1989
Year Movie Released in Japan
1984
Year Movie Released in U.S.
1985
NOTE:
As with the original Godzilla, the Japanese and U.S. versions of this film are quite different. The Japanese versions of these movies do not have Raymond Burr in them among other things.
| | |
| --- | --- |
| REVIEW | This Stereo Original Soundtrack to Godzilla 1984 surprised me. It is definitely not one of my favorites and I'd be hard pressed to recommend it to the casual Godzilla fan. All 29 tracks on this CD are very mellow with none of the action oriented, rousing music we find in Ifukube's scores. If you have a choice between this CD and the expanded one on Futureland (TYCY-5360), go with the Futureland release. Don't get me wrong, there is nothing bad about this music, it's just way too mellow and laid back for my tastes. This CD would be an excellent choice if you want to just sit back and relax in a quiet room (with or without headphones)and drift off to dreamland. |
U.S. Title: Godzilla 1985
Japanese Title: Gojira
Main Theme
The Two Meet
Theme Song: Godzilla Comes Ashore
Destruction of the Nuclear Power Plant
Izu/Oshima/Miharayama
The Nuclear Satellite(s) in Outer Space
Emergency Evacuation Orders
Tokyo Bay: Godzilla Roars
The Capital Goes Up in Flames
The Super X Theme Song
Dive Down to 400 - On The Double!
The High-Rise Building, The Isolated Twosome
Fight to the Death: Godzilla vs. Super X
Godzilla Heads to Miharayama
Ending Theme (not used in the original version)
Farewell Theme
Godzilla: Love's Theme
Naoko's *1 Theme 1
Anxiety
News Bulletin
The Appearance
Night View
Naoko's *1 Theme 2
Testimony
Naoko's *1 Theme 3
The Defense Force
Background Music 1 (not included)
Background Music 2 (not included)
Background Music 3 (not included)
*1 This is a girl's name. The same characters can also be read "Hisako", "Yoshiko", "Takako", etc.