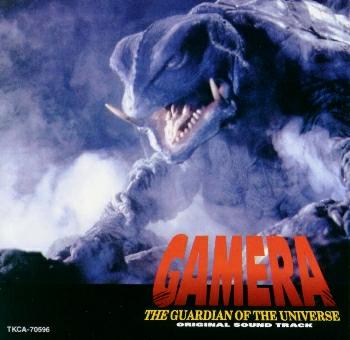 © 1999 Lawrence Tuczynski
| | |
| --- | --- |
| Title | Gamera: Guardian Of The Universe |
| Japanese Title | Gamera Daikaijû Kuchu Kessen |
| Movie also known as: | Gamera: Giant Monster Midair Showdown |
| CD Label | Tokuma Japan Communications |
| CD Number | TKCA-70596 |
| Music by: | Kou Ootani |
| Number of tracks | 29 |
| Running time | 51:33 |
| Number of discs | 1 |
| Year of release/manufacture | 1995 |
| Year Movie Released in Japan | 1995 |
| Year Movie Released in U.S.(Video) | 1998 |
REVIEW

April 4, 2000

This is the first of the new Gamera films of the 1990's. Here we get top notch special effects and Gamera is much more menacing. No longer the kiddie films of the 60's & 70's but something very watchable for all ages.

The music on this CD is very action oriented as is the movie. I enjoyed the music on this CD by Kou Ootani and it works as stand alone music but I feel it works even better in the film and that after all is what a soundtrack is supposed to do.
U.S. Title: Gamera: Guardian Of The Universe
Japanese Title: Gamera Daikaijû Kuchu Kessen
Opening - The Premonition
Main Title
The Research Vessel(s)
The Catastrophe on Himegami Island
Appearance and Traces of the Monstrous Bird
The Skies above the Island
The Atoll at Night
Mystery at the Bottom of the Sea
The Launch of Operation "Fukuoka Dome Round-up"
Leading the Way
Terror Closes In
Gamera Appears
Gaos Flees
The Ancient Civilization and Oriharukon*
Tactical Center at the Defense Agency
The Suspension Bridge: The Critical Moment
Gamera Shot Down
The Tank Brigade
Fuji. Gamera in Danger
Gaos' Chromosomes
Gaos' Flies to Tokyo
Tokyo Tower Collapses
Gamera and Asaki
Here He Comes!**
Gamera vs. Gaos
The Midair Showdown
Gamera Counterattacks
Ending Theme...."To the Sea"
Theme Song "The Myth" by Bakufu Slump
* This is a direct transliteration from the Japanese.
** Alternate Translations: "Here She Comes!", "Here It Comes!" or "Here They Come!"