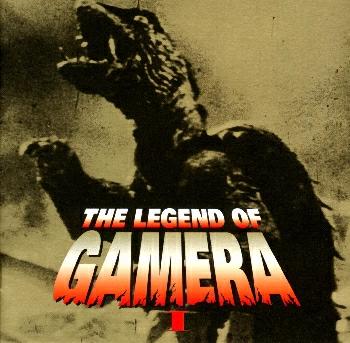 © 1999 Lawrence Tuczynski
| | |
| --- | --- |
| Title | The Legend Of Gamera I |
| CD Label | Tokuma Japan Communications |
| CD Number | TKCA-70605 |
| Music by: | ? |
| Number of tracks | 26 |
| Running time | 67:56 |
| Number of discs | 1 |
| Year of release/manufacture | 1995 |
REVIEW

October 21,1999

I really enjoyed this CD. It is very similar to the second volume called "The Legend Of Gamera II" but I didn't care much for the 2nd volume (see the review). While this CD also had sound effects tracks and some movie dialogue it didn't seem to have as much as in vol. 2 and there seemed to be more music here. The music on this disc is darker and more action oriented and not that kiddie type music found in vol. 2.

Track 7 is very interesting in that it is made up of several different takes on the same sound effects. Between each take is a Japanese voice that sounds like it's coming from the control room. Since I don't speak Japanese I couldn't tell if the voice was giving directions to how he wanted the effect done or just saying "Take one", "Take two", etc.

I enjoyed listening to this CD and unless you like kiddie music would recommendd this one over the second volume.

LEGEND OF GAMERA I

GIANT MONSTER GAMERA

1. DB-1: Daiei Logo - Eskimo Village

2. DB-6: Gamera Released From the Ice - Main TItles

3. DB-7: The Eskimo Stone

4. DB-17: The Boy and Gamera

5. DB-29: Gamera Trapped at Jigoku Iwa

6. DB-42: Begin "Z-Plan"

7. Gamera's Cry

8. Gamera's Footsteps

9. Jet Planes

10. Sound of Gamera Bleching Fire

11. Sound of the Fire Compressor

12. Gamera's Footsteps (Final Recording)

13. Sound of Bleching Fire (Gamera) Final Recording

GIANT MONSTER DUEL: GAMERA VS. BARUGON

14. DB-TOP: Daiei Logo - Main Titles

15. DB-4-2: The Boss Appears

16. DB-4-3: Keisuke: Three Men in the Jungle

17. DB-5: The Opal Hatches

18. DB-18: Gamera Frozen by Barugon

19. DB-31: The Assualt on Barugon

20. DB-34-2: Gamera Defeats Barugon

21. Barugon's Cry

GIANT MONSTER DOGFIGHT: GAMERA VS. GYAOS

22. DB-1: Daiei Logo - Main Titles

23. DB-2: Gamera Appears

24. DB-18I: Gamera Appears Over Naogya Stadium

25: DB-25: Operation: Whirlybird

26. DB-32: Gamera Returns - Gamera vs. Gyaos