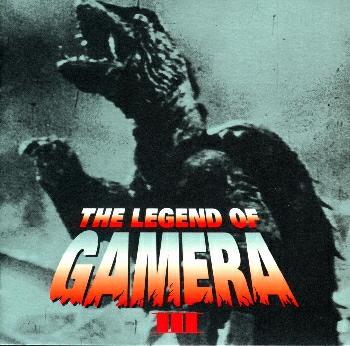 © 2000 Lawrence Tuczynski
| | |
| --- | --- |
| Title | The Legend Of Gamera III |
| CD Label | Tokuma Japan Communications |
| CD Number | TKCA-70607 |
| Music by: | Various |
| Number of tracks | 38 |
| Running time | 56:36 |
| Number of discs | 1 |
| Year of release/manufacture | 1995 |
REVIEW

March 11, 2000

Unlike Volume 2 which I didn't care for, this CD is more like Volume 1 and was enjoyable. This CD has a good mix of both music and sound effects with not a lot of what I consider kiddy music. We do have several versions of the well known "Gamera" song sung by children but we also have two other very different sounding versions near the end of the disc. Track #36 is sung by a female with a Polka type beat to the music. Track #38 is a fast, toe tapper of a version of the Gamera song with a children's chorus singing.

Tracks #6 - #11 and #19 - #34 appear to be made up of several alternate takes at some sound effects. You can hear someone in the background giving instructions.


LEGEND OF GAMERA III

From "Gamera vs. Monster X"
 1.	The Gamera March (StereoVision)
 2.	DB-14-B
 3.	DB-22-A
 4.	DB-27-A
 5.	Sound of the Stone Statue - Original 1
 6.	Jiger's Cries - Mix #3
 7.	Sounds of Baby Jiger - Original
 8.	Jiger's Cries - Mix 
 9.	Jiger's Cries (No. 2)
10.	Jiger's Cries - Original
11.	Sound of the Stone Statue - Mix

[Gamera vs. the Deep Sea Monster Zigra]
12.	DB-1-M-1
13.	DB-17-M-14
14.	DB-2-M-3
15.	DB-9-M-9  Latter Portion
16.	DB-17  Latter Portion M-14A
17.	DB-27  Middle Portion M-20A
18.	DB-27-M-20A and M-21
19.	Sound of Zigra's Fin(s) in the Water
20.	Sound of Zigra's Wings 
21.	Sound of Zigra's Wings Cutting Through the Air
22.	Zigra's Dorsal Fin Strikes (Original)
23.	Zigra Yawns
24.	Sound of Zigra's Nose Light *1
25.	Zigra's Cries (Various)
26.	Zigra's Tail Strikes
27.	Sound of the Arm Slice *2
28.	Sound of the Retracting Neck
29.	Sound of the Lunar Vehicle
30.	Zigra's Dorsal Fin Strikes (Re-recording)
31.	Gamera Dives Underwater
32.	Bubbles on the Ocean Floor 
33.	Zigra's Cries
34.	Zigra's Cry  (Extended)

[Space Monster Gamera]
35.	M-1
36.	To the Future with Love! (Stereo)
37.	M-34
38.	The Gamera We Know (Stereo)

*1	This is a literal translation of the Japanese title. 
*2	To be confirmed.