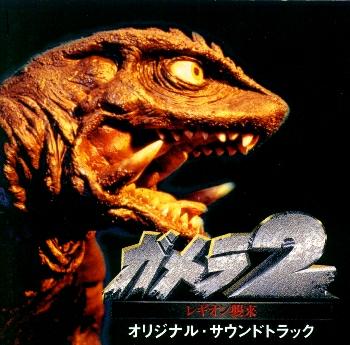 © 1999 Lawrence Tuczynski
| | |
| --- | --- |
| Title | Gamera 2: Gamera vs. Legion |
| Japanese Title | Gamera 2 Legion Shurai |
| Movie also known as: | Gamera 2: Assault of the Legion |
| CD Label | Tokuma Japan Communications |
| CD Number | TKCA-70927 |
| Music Composed by: | Koh Otani |
| Music Conducted by: | Hiroshi Kumagai |
| Number of tracks | 45 |
| Running time | 47:41 |
| Number of discs | 1 |
| Year of release/manufacture | 1998 |
| Year Movie Released in Japan | 1996 |
| Year Movie Released in U.S.(Video) | N/A |
REVIEW

This soundtrack is from the 2nd new Gamera movie released by Daei. These films are much better than the old flying turtle movies of the 70's and give the new Godzilla movies a run for their money, especially in the Special Effects department. The first movie: "Gamera: Guardian Of The Universe" is available here in the U.S., this movie is not. I have seen a Japanese cut with english subtitles and it's a very well done movie with great characters and plenty of action.

The music on this CD contains the score to the movie and is very action oriented. Some tracks also contain sound effects. The music stands on its own well but it's one of those scores that you appreciate even more when hearing it within the movie. Overall not bad and worth a listen. Definately different than your Godzilla soundtracks.

U.S. Title:      Gamera 2: Gamera vs. Legion
Japanese Title:  Gamera 2 Legion Shurai

1	Opening
2	Main Title - The Meteor Cluster
3	Chemistry Platoon Mobilized
4	The Aurora Beam
5	Something's Wrong
6	The Shadow(s)
7	Unidentified Life Form
8	The Attack
9	Orders to Blockade
10	A Multitude of Strange Life Forms
11	Appearance of the Sotai *1
12	Rescue Operations
13	War Council
14	Operation BLAST
15	The Simulation
16	The Appearance of Gamera
17	Countdown I
18	Countdown II
19	Look Up!  *2
20	My Name is Legion
21	Identification *3 of Giant Legion
22	The Autopsy
23	Identification of Body Tissue
24	The Day of Catastrophe
25	Sotai1 Heads South
26	Refugees
27	The Two Monsters Clash!
28	Fight to the Death
29	The Explosion(s)
30	Defeat
31	The Setting Sun
32	Tank Brigade(s) in Motion I
33	The Salute
34	Preparing to Launch an Attack
35	Tank Brigade(s) in Motion II
36	The Premonition I
37	The Premonition II
38	Resurrection!
39	Anti-aircraft Fire
40	Counterattack
41	All-Out War
42	The Last Line of Defense
43	The Final Blow
44	Ending - Roaring
45	Urufuruzu *4 [Sky]

*1  This is a direct transliteration of the Japanese. 
    'Sotai' literally means 'cursive or script-like style of writing'.  
*2  The literal transliteration is 'It Comes Flying Towards Us', 
    but I prefer my interpretation. Please feel free to use whichever you prefer.
*3  Or possibly, 'Confirmation of Giant Legion'
*4  (This info courtesy of Eduardo Fojo, March 3, 2001) 
	There's a musical group in Japan called Ulfuls (according to a an informative 
	book called "Nippon Pop", the name comes from the ending of the word 'soulful'). 
	The "Gamera 2" cd's booklet includes a picture of the group standing with
	what I presume is the Gamera costume, and the katakana rendering of the
	group's name would be Urufuruzu.