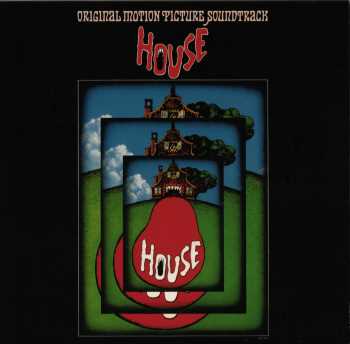 © 2011 Lawrence Tuczynski
All info and scans courtesy of David Hirsch
| | |
| --- | --- |
| Title | House |
| Japanese Title | Hausu |
| CD Label | G-matics (Super Fuji) |
| CD Number | GMT-002 |
| Music by: | Godiego |
| Number of tracks | 12 |
| Running time | 43:20 |
| Number of discs | 1 |
| Year of release/manufacture | April 2008 |
| Year of Movie Released in Japan | 1977 |
| Year of Movie Released in U.S. | 1977 |
REVIEW

April 02, 2011
Review Courtesy of David Hirsch

The recent Criterion release of director Nobuhiko Obayashi's 1977 film "House" (Hausu) has finally made another obscure Toho film available at last to western audiences who have only heard of this bizarre anti-horror film in veiled whispers. Obayashi, primarily a director of TV commercials, abandoned all the familiar trappings typical to the standard haunted house genre, such as replacing bright colors for dark. The same can be said for the score, a bubbly collection of pop score and songs featuring co-composer Yoshino's group Godiego. This CD is an exact replica of the original LP release right down to it's cardboard sleeve representing the original album's packaging in miniature. Though only slightly less than 45 minutes in length, it represents pretty much all of the film's score. Portions of "Sweet Dreams of Days Gone By" and "In the Evening Mist" appear edited throughout, as does "Buggie Boggie," the hip theme for the school girls' very up-hip teacher perpetually lost on his way to rescue them. Even if the film is not your cup of tea, it's still a great listen and worth having for collectors of unusual Japanese scores.

You can also find some info at Toho Kingdom using this link http://www.tohokingdom.com/cd/house_super_fuji.html.
House
Main Theme (3:51)
Buggy Boogie (4:55)
Hungry House Blues (6:16)
Eat (3:16)
Sweet Dreams of Days Gone By (1:58)
A Letter in the Past (2:44)
Cherries Were Made for Eating [vocal: Ken Narita] (3:23)
Eat Eat (3:55)
In the Evening Mist (2:28)
Oriental Melon Man (3:15)
Eat Eat Eat (0:52)
Love Theme [Vocal: Yukihide Takekawa] (5:32)