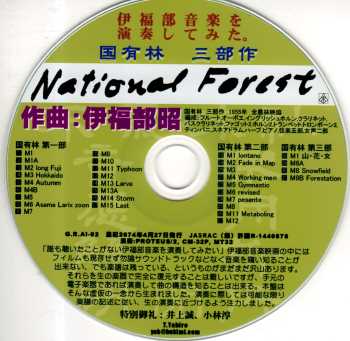 © 2014 Lawrence Tuczynski
English Title:
NATIONAL FOREST
Japanese Title:
NATIONAL FOREST
CD Label:
BKM
CD Number:
G.R.F.60A1
Music Composed by:
Akira Ifukube
Music Performed by:
Bukimisha Weird Secret Society
Takeo Yahiro & Friends
Number of tracks:
31
Running time:
62:12
Number of discs:
1
Year of release/manufacture:
April 27, 2014
REVIEW

October 17, 2014

"National Forest" is a documentary trilogy produced in 1955.

Unlike other CD's released by "The Bukimisha Weird Secret Society - Takeo Yahiro & Friends" the music on this CD is not a cappella singing. And unlike other CD's by them there are no hidden tracks here. From what little I can find out about this CD it is music composed by Akira Ifukube that was never used in any of his film scores. The music is played by an orchestra with no vocals. I thoroughly enjoyed listening to this CD. The music itself is somewhat light with some tracks sounding a bit sad and somber. The CD comes in a plain plastic pouch with no jewel case or booklet. It's just as you see in the picture at the top of this page.

http://www.bukimi.com/maal/hanpu_english.html, http://www.bukimi.com/maal or email Takeo Yahiro (yah@bukimi.com) for more information.
NATIONAL FOREST (G.R.AI-02)
Title translations courtesy of Jolyon Yates
National Forest 1st Movement

M1
M1A
M2 Long Fuji
M3 Hokkaido
M4 Autumn
M4B
M5
M6 Asama Larix Zoon
M7
M8
M10
M11 Typhoon
M12
M13 Larva
M13A
M14 Storm
M15 Last

National Forest 2nd Movement

M1 Lontano [Distant]
Fade in Map
M3
M4 Working Men
M5 Gymnastic
M6 Revised
M7 Pesante [Heavy]
M8
M11 Metaboling
M12

National Forest 3rd Movement

M1 Mountain . Flower . Woman
M6A
M8 Snowfield
M9B Forestation