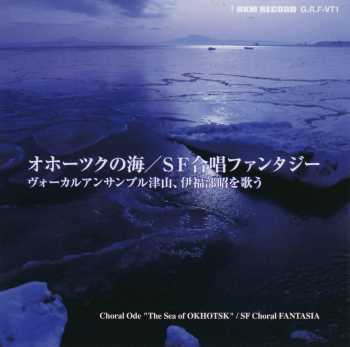 © 2012 Lawrence Tuczynski
Title:
The Sea Of Okhotsk / Choral Fantasy SF
CD Label:
BKM
CD Number:
G.R.F.-VT1
Music Performed by:
Conductor: Kazumi Yahiro
Piano: Yoko Soroi
Chorus: Vocal Ensemble Tsuyama
(Arrangement by Takeo Yahiro)
Music Composed by:
Various Composers
Number of tracks:
3
Running time:
37:04
Number of discs:
1
Year of release/manufacture:
August 12, 2012
REVIEW

October 29, 2012

A full review will be coming at a later date.

The Bukimisha Weird Secret Society on this CD do their usually great a cappella renditions of this music.

As with previous CD's in the series, this disc can be ordered directly from the artists. Visit their English web page at: http://www.bukimi.com/maal/hanpu_english.html, or email Takeo Yahiro (yah@bukimi.com) for more information.
The Sea Of Okhotsk / Choral Fantasy SF
Ode: "The Sea Of Okhotsk" (1958)
SF Choral Fantasy (1958-1993)


MEDLEY:
a. Mothra Takes Flight (from MOTHRA VS. GODZILLA, 1964)
b. Mahala Mothra (from MOTHRA VS. GODZILLA, 1964)
c. The Sacred Fountain (from MOTHRA VS. GODZILLA, 1964)
d. Baradagi, God of the Mountains (from VARAN THE UNBELIEVABLE, 1958)
e. Ancient Lullaby (aka, "Music of an Ancient Plant" - from GODZILLA VS. MECHAGODZILLA, 1993)
f. The Prayer of the Mu Empire (from ATRAGON, 1963)
g. The Giant Devil (from KING KONG VS. GODZILLA, 1962)

Bonus Track: Serenade Of A Sailor ("Eiku Maru Sinking" from GODZILLA, 1954)