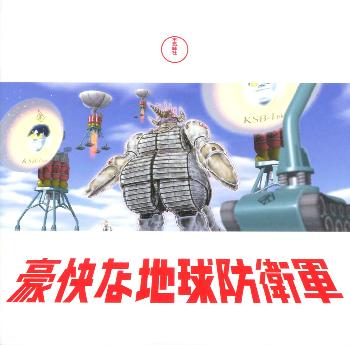 © 2002 Lawrence Tuczynski
| | |
| --- | --- |
| Title: | THE MYSTERIANS |
| Japanese Title: | GOUKAI Na CHIKYUBOUEIGUN |
| CD Label: | BKM |
| CD Number: | G.R.F.009 |
| Music by: | Akira Ifukube |
| Music Performed by: | Takeo Yahiro & Friends |
| Number of tracks: | 21 |
| Running time: | 73:04 |
| Number of discs: | 1 |
| Year of release/manufacture: | 2001 |
REVIEW

Updated May 16, 2002

"GOUKAI Na CHIKYUBOUEIGUN (THE MYSTERIANS)" (G.R.F.009), released in 2001, features vocal arrangements of all of Ifukube's marches from various sci-fi films. This disc is amazing in my opinion because the arrangements are rich and complex. The music is performed entirely "a cappella" by a male vocal chorus consisting of Takeo and about ten of his friends. The CD is self-produced and manufactured by the artist. There are no instruments here, only people doing this music with their voices. The first time I heard this I was blown away. Surprisingly, this is considered a novelty record in Japan. This CD is difficult to get but well worth the effort in my opinion. Not everyone may like it but I think most of us that are familiar with this music will be amazed and pleased.

This CD seems to be available only from the artist, Takeo Yahiro (yah@bukimi.com). Send him an e-mail for ordering information but be patient, as he does not speak much English and may take a little time to get back to you. Also visit his website at: http://www.bukimi.com/maal/
Having this music done "a cappella" is just amazing to hear and very well done.
English Title: THE MYSTERIANS
Japanese Title: GOUKAI Na CHIKYUBOUEIGUN
From "Godzilla" Frigate March
From "Rodan, The Flying Monster" Get Rodan!
From "Rodan, The Flying Monster" Rodan Attacks Fukuoka
From "The Mysterians" Markalite FAHP
From "Baran, The Unbelievable" Baran vs. Fighter-Bomber 'Neptune'
From "Baran, The Unbelievable" Baran vs. Destroyer 'Uranami'
From "Battle In Outer Space" Main Title
From "Battle In Outer Space" Battle In Outer Space
From "King Kong vs. Godzilla" The Plan to Transport King Kong
From "Atragon" Main Title
From "Atragon" The Undersea Warship Attacks
From "The Little Prince and the 8-Headed Dragon" Main Title
From "Space Monster Dogora" Dogora's Natural Enemy
From "Space Monster Dogora" The Air Corps Launches an Offensive
From "Frankenstein Conquers The World" Search March
From "Monster Zero" Main Title
From "War Of The Gargantuas" Operation L - March
From "Destroy All Monsters" SY-3 March
From "Godzilla vs. MechaGodzilla" G Force March
From "Godzilla vs. Destroyer" Super-X III
From "Monster Zero" Monster Mega-War March
Bonus track
Bonus track
Bonus track
Bonus track