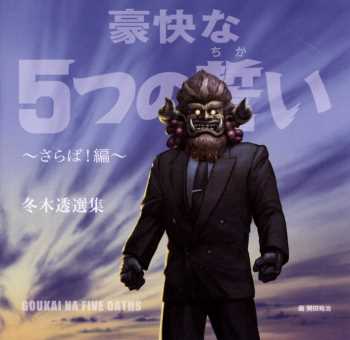 © 2008 Lawrence Tuczynski
Title:
GOUKAI Na Five Oaths: Tohru Fuyuki Anthology
CD Label:
BKM
CD Number:
G.R.F.023
Music Performed by:
Bukimisha Weird Secret Society
Takeo Yahiro & Friends
Number of tracks:
23 (16 listed, 7 hidden)
Running time:
73:44
Number of discs:
1
Year of release/manufacture:
August 17, 2008
REVIEW

November 22, 2008

Full review coming at a later date

This CD has songs about the different incarnations of UltraMan.

As with previous CDs in the series, this disc can be ordered directly from the artists. Visit their English web page at: http://www.bukimi.com/maal/hanpu_english.html, or email Takeo Yahiro (yah@bukimi.com) for more information.
GOUKAI Na Five Oaths: Tohru Fuyuki Anthology
?
Saraba Jack
Saraba Joe
Saraba Joe
Ultra Mother Ballad
Saraba Cosmos
Saraba Eighty
Saraba Leo
Saraba Fireman
Saraba Ace
Zoffy Ballad
Saraba Mirrorman
Saraba Seven
Saraba Seven
Ultra Seven Ballad
Hayabusa