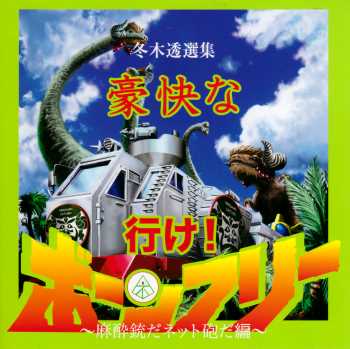 © 2012 Lawrence Tuczynski
Title:
TORU FUYUKI COLLECTION / Born Free
CD Label:
BKM
CD Number:
G.R.F.031
Music Performed by:
Bukimisha Weird Secret Society
Takeo Yahiro & Friends
Music Composed by:
TORU FUYUKI
Number of tracks:
21 (17-21 Bonus Tracks)
Running time:
79:46
Number of discs:
1
Year of release/manufacture:
August 12, 2012
REVIEW

November 11, 2012

This CD is comprised of music composed by TORU FUYUKI. The first seven tracks are from the 1976-77 Japanese TV series, "Kyoryu Tankentai Born Free" (aka, "Dinosaur Expedition Born Free"). The series was a blend of anime and live action. The rest of the tracks are from the 1972 Toho film, "Daigoro vs. Goliath", which was a kaiju movie intended mostly for kids.

As with other CD's in this series by the Bukimisha Weird Secret Society all tracks are done a cappella. Also as with other CD's in the series the music is well done with the voices making you almost forget that there is no instrumentation. Another fine CD in the series.

As with previous CDs in the series, this disc can be ordered directly from the artists. Visit their English web page at: http://www.bukimi.com/maal/hanpu_english.html, or email Takeo Yahiro (yah@bukimi.com) for more information.
TORU FUYUKI COLLECTION / BORN FREE
Born Free!-TV
Born Free Corps Fuji Headquarters (M2, M4)
South America 3-Bronte Zaurus (M6, M26, M35, M27, M51)
Java-ankylosaur (M41, M46, M24)
Canada Tyrannosaurus (M21, M22, M25)
Islands Off The Coast Of Saron, Florida (M7, M9, M32, M8, M72)
Forever by Seven Dinosaur (from "Goliath vs. Daigorou")
A Sunny Day (M0, M3, MAIN TITLE)
The Death of My Mother (M8)
Save Daigorou (M12, M14-1, M14-2, M15)
Large Ru Star Beast (M24)
Struggle In Vain (M26)
Good Luck (M42)
Epiroogu (theme song)
My Uncle
Lullaby of Goro
BONUS TRACK
BONUS TRACK
BONUS TRACK
BONUS TRACK
BONUS TRACK