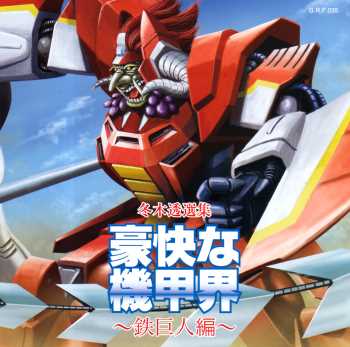 © 2014 Lawrence Tuczynski
English Title:
HEROIC MECH-ARMOR WORLD ~ IRON GIANT COLLECTION
Japanese Title:
GOKAINA KIKOKAI ~ TETSUKYOJIN HEN
CD Label:
BKM
CD Number:
G.R.F.035
Music Composed by:
Toru Fuyuki
Music Performed by:
Bukimisha Weird Secret Society
Takeo Yahiro & Friends
Number of tracks:
6
Running time:
72:00
Number of discs:
1
Year of release/manufacture:
August 17, 2014
REVIEW

October 08, 2014

Review coming soon

The hidden track, track #6, is 25 minutes long with the first almost 4 minutes nothing but silence. The rest has music in the background while someone is speaking in Japanese, maybe doing a reading of some sort.

G.R.F. 035 is a collection of various Toru Fuyuki tracks.

http://www.bukimi.com/maal/hanpu_english.html, http://www.bukimi.com/maal or email Takeo Yahiro (yah@bukimi.com) for more information.
GOKAINA KIKOKAI (HEROIC MECH-ARMOR WORLD) ~ TETSUKYOJIN HEN (IRON GIANT COLLECTION) (G.R.F.035)
Title translations courtesy of Jolyon Yates
From KIKOKAI GARAIN [literally MACHINE ARMOR WORLD GARIAN, English title PANZER WORLD GALIENT, 1984]

First movement/ Beginning of the Legend ~ Galian World
Second movement/ Soaring Hope
Third movement/ White Valley
Fourth movement/ Confronting Fate
Fifth movement/ Legendary Shining Grain ~ One Second of Stars [the archaic meaning of the kanji for 'second' was 'beard of grain']
Hidden Track (25 minutes long. The first almost 4 minutes are quiet with no sound.