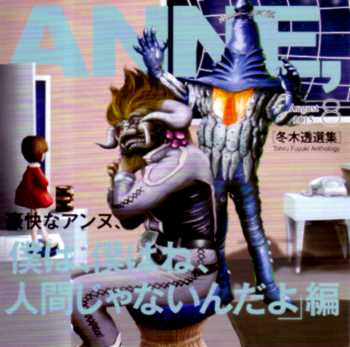 © 2015 Lawrence Tuczynski
English Title:
Tohru Fuyuki Anthology - For Anne
CD Label:
BKM
CD Number:
G.R.F.038
Music Composed by:
Tohru Fuyuki
Music Performed by:
Bukimisha Weird Secret Society
Takeo Yahiro & Friends
Number of tracks:
7
Running time:
73:18
Number of discs:
1
Year of release/manufacture:
August 08, 2015
REVIEW

December 12, 2015

Review coming soon

G.R.F. 038 is another in the Tohru Fuyuki Anthology collection. As with other CD's by this group there is a hidden track at the end. The CD only lists six tracks but there is actually a hidden seventh track.

http://www.bukimi.com/maal or email Takeo Yahiro (yah@bukimi.com) for more information.
NOTE: Hopefully I will be able to get better translations for this disc in the near future but this is what i have for now.
Suite 1 'A bit of a holiday'
Nocturne(Theme of ANNE)
Peace (m8a)
Ending @ digits {? #?} (M27c)
Hope (M55)
The Moon (Globular Cluster M71)
Suite 2 'A'
Spring (44 e)
Holiday (M70)
Joy (Rocket)
Fun (M52)
Lovers (M53)
Suite 3 'False peace'
Anne Scream (M1)
Lake of the girl (M9c)
False Peace (Globular Cluster M69)
On The Beach (M73)
Non-Marth (The Phantom Galaxy)
Visitor (? 25 humming)
Suite 4 "Under the stars"
Ali Warning (M44a)
Struggles (M58)
He decided to (M61a)
Someone else's star (M49a)
Under The Stars (M34)
Piano Concerto in a minor works 54 / first movement (Schumann)
Suite 5 "When the morning star is shining"
Mo Robo-Dan of light and shadow (theme of Anne)
Interactive (M8b)
Hidden Track