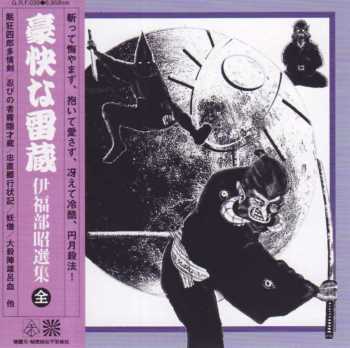 © 2016 Lawrence Tuczynski
English Title:
GOKAINA RAIZO
CD Label:
BKM
CD Number:
G.R.F.039
Music Composed by:
Tohru Fuyuki
Music Performed by:
Bukimisha Weird Secret Society
Takeo Yahiro & Friends
Number of tracks:
10 (2 hidden)
Running time:
72:01
Number of discs:
1
Year of release/manufacture:
December 31, 2015
REVIEW

October 05, 2016

G.R.F. 039 is another in the Tohru Fuyuki Anthology collection. As with other CD's by this group there is a hidden track at the end, in this case two hidden tracks.. The CD only lists eight tracks but there is actually a hidden ninth and tenth track.

I have never had to the chance to see the films listed below in the track listing nor ever heard the original soundtracks. However, this group does a fine a cappella version that interests me enough to hopefully find some of the original soundtracks to compare.

Go to http://www.bukimi.com/maal or email Takeo Yahiro (yah@bukimi.com) for more information.
Translations courtesy of Jolyon Yates.
Kyoshiro Nemuri: The Mask of the Princess (1966)
Kyoshiro Nemuri: Sword of Villainy (1966)
Teuchi (1963) [literally 'Death by Hand', in other words 'Capital Punishment'] aka DEATH BY SWORD
Shinobi no Mono: Kirigakure ["Misty"] Saizo (1964)
Tadanaokyo Gyojoki / (1960)
Onnakeizu / Women Genealogy (1962)
Yoso / [ literally 'Mystical Monk'] (1963) aka SORCEROR
Daisatsujin Orochi / Great Sword Fight Orochi (1966) [aka THE BETRAYAL]
Hidden Track
Hidden Track